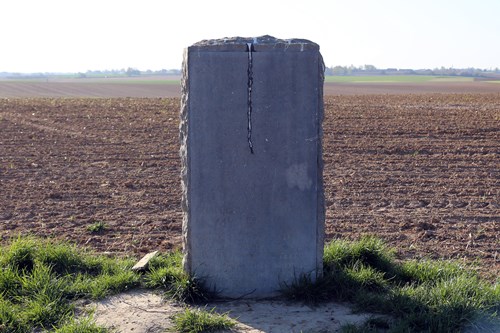 Text on the monument:

"En mémoire de Lieutenant Augustin Demulder de 5ème cuirassiers né à Nivelles en Brabant en 1785 Chevalier de la Légion d'Honneur blessé à eylau 1807 à 1809 à hanau 1813 tué à Waterloo.
Et en mémoire de tous les cavaliers qui chargèrent avec lui le 18 juin 1815.
Cette Pierre à été placée par le Waterloo Committee en Association avec la Société Belge d'études Napoléoniennes."

"In memory of lieutenant Augustin Demulder, of the 5th Regiment of Cuirassiers, born in Nijvel (North Brabant) in 1785, Knight in the Légion d'Honneur, wounded at Eylau in 1807 and 1809, at Hanau in 1813 and killed in Waterloo.
And in memory of the cavalrymen who charged with him on 18 June 1815.
This commemoration plaque was placed by the Waterloo Comité in collaboration with the Belgian Society for Napoleonic Studies."
Do you have more information about this location? Inform us!
Source