May 10th, 1940, the Wehrmacht started their massive offensive against Belgium, the Netherlands, Luxemburg and France. A month of intense fighting later, the French government, to save their country from total destruction, decided to sign an armistice with Germany on June 22, 1940. The news shocked everyone, the powerful empire of France had fallen only within weeks of fighting. Unfortunately for the Allies with the armistice came the liberation and the re-integration of more than 400 German Luftwaffe pilots, until then French prisoners of war, which would be added to Great Britain's misfortune playing an important role during the battle of England. However, since the start of the war, the Brits wanted France to place their prisoners in a safe place like on their island or in a far French colony.
After this major defeat of the Allied forces and the recovery of Germany of more than 400 pilots and other thousands of soldiers, Great Britain knew it had to prepare itself for an invasion or at least a powerful attack. The government didn't want to risk having prisoners going back to the service of the Third Reich in case of defeat, nor did they want to have prisoners' uprising or escape from their camps. A final decision was taken to send the prisoners to colonies, especially Canada (for the Germans. The Japanese soldiers were most of the time sent to India or Australia).
The first World War 2 military German prisoners (from the Wehrmacht, Luftwaffe, Kriegsmarine, etc.) arrived in Canada via the Halifax port. They were usually transported in cargo ships coming back to Canada to pick up more war supplies. These ships weren't really targeted by the vicious U-boats, the crews knowing there were probably some German prisoners of war on the ships. When they arrived at their destination, they were transferred to trains that would directly take them to their attributed camp. The prisoners were separated at their arrival by the level of risk they represented and were then dispatched in different provinces of the country. In total, from 1940 to 1946, more than 37,000 German and Italian war prisoners were imprisoned in Canada, distributed over about 30 camps, guarded by the national defense branch of the Royal Canadian Army.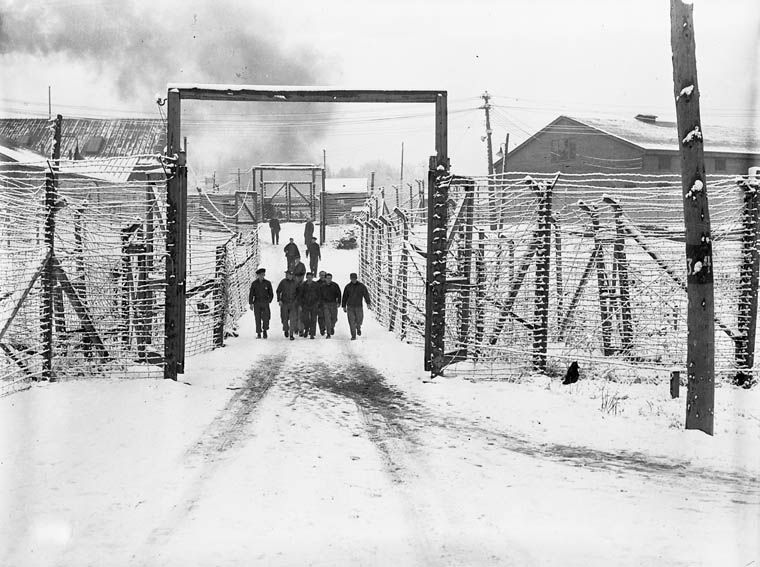 German PoWs in prison camp at Sherbrooke. Source:
Library and Archives Canada