TRANSLATED BY FERNANDO LYNCH – Frank van Lunteren has been working on the history of the 504th Parachute Infantry Regiment of the U.S. 82nd Airborne Division since 2001. This unit fought, among other things, during Operation Market Garden and the Ardennes Offensive. The historian born and raised in Arnhem has published five books on the regiment. May 1st, 2022, marked the 80th anniversary of the 504th PIR. Reasons enough to ask Frank van Lunteren a couple of questions about his research on this platoon unit.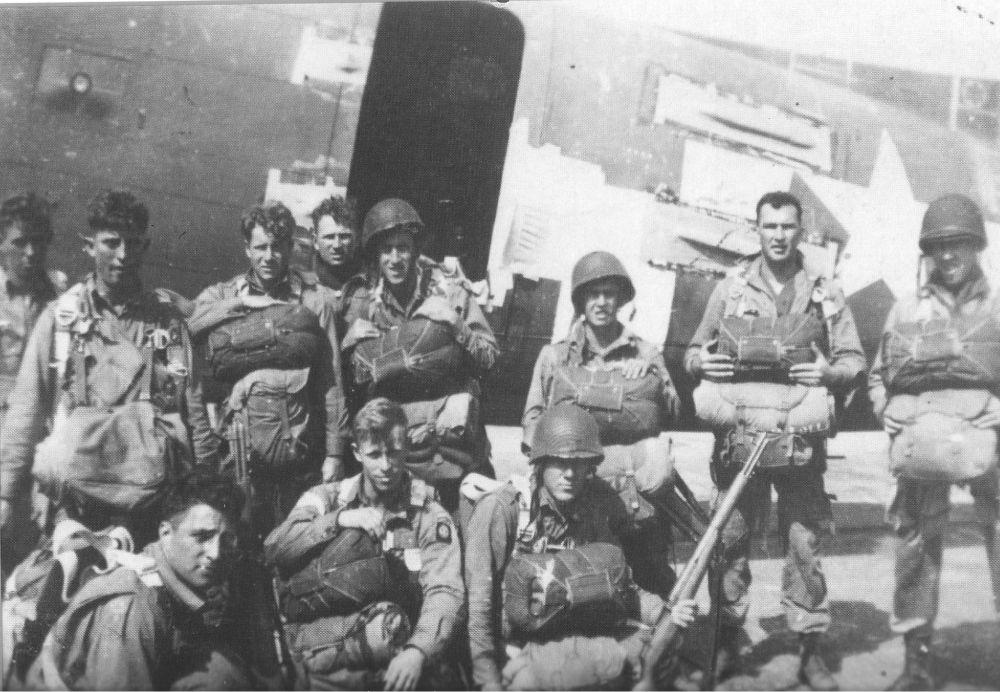 Platoon of the B Company on Sept. 17, 1944 at Cottesmore Airfield, before landing at Overasselt that day.
You wrote several successful books about the 504th Parachute Infantry Regiment of the U.S. 82nd Airborne Division, including 'Brothers in Arms', 'Blocking Kampfgruppe Peiper' and 'The Battle of the Bridges'. When and how did you first learn about the history of this regiment and what fascinates you most about it?
I started my studies at Nijmegen in September 2000, and in May 2001 came into contact with veteran Fred Baldino of the A Company. He had experienced the Waal crossing, and my friendship with him sparked the idea in October 2003, after visiting Baldino in California, for a sort of 'Band of Brothers', but then about A Company 504th PIR. What fascinated me about Fred's story, and that of 44 other veterans I tracked down, is that they spent a much longer period at the front than the well-known 'Easy Company'. They experienced a 'friendly fire' incident when landing in Sicily, earned their nickname 'Devils in Baggypants' at Anzio, provided three volunteer pathfinders for D-Day, captured Fort Hof van Holland at the Waal Crossing, and earned a Presidential Unit Citation as a single rifle company at Hitdorf-am-Rhein in April 1945. A list of combat operations that certainly, by no means, can measure up to Brécourt Manor, Eindhoven, Nuenen, Crossroads, Operation Pegasus I, Foy, Noville, Hagenau, and Berchtesgaden.
My satisfaction with this project was to be able to return a favor to the veterans: namely, to restore contact with comrades lost after 58, 60, and finally 62 years! For the children of several fallen paratroopers, I could shed more light on the passing of their father. For example, the daughter of Lieutenant Henry Dunavant first heard through me in 2008, how her father had been assassinated by Lieutenant James Kiernan. They met in March 2017 at a reunion I helped organize at Fort Bragg.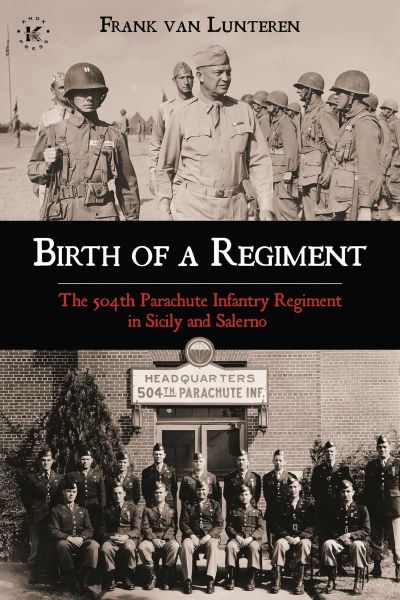 You have published a new book on the 504th PIR last year, titled 'Birth of a Regiment'. Which period and battles does this publication cover? This part of history takes place a lot further from home than the locations in your other books. Did it cause any problems while writing?
The book 'Birth of a Regiment' describes the formation of the 504th PIR on May 1, 1942, and continues through October 1, 1943. There the earlier published 'Spearhead of the Fifth Army', picks up and overlaps until the regiment's departure in April 1944 from Naples to Liverpool. 'The Battle of the Bridges' is the mid-volume of the five books about the regiment and ends in November 1944. It describes in detail the actions during Operation Market Garden and in particular the Waal crossing. 'Blocking Kampfgruppe Peiper' continued the fighting in the Ardennes from November 1944 to the end of February 1945, where they succeeded in blocking the advance of Kampfgruppe Peiper and even pushed back at Cheneux and Monceau. The fifth book, 'End of an Odyssey', will be published in 2023 and concludes the odyssey of the 504th PIR with the April 1945 patrols across the Rhine, the advance to the Elbe, occupation time in Berlin and lastly the New York Victory Parade.
While interviewing 45 A Company veterans in 2006 for the small-edition 'Brothers in Arms', as well as later nearly 150 other veterans of the regiment, I surveyed them about their entire time with the regiment. Archival research, tracking down, and correspondence with children of dozens of officers resulted in unpublished material consisting of letters, diaries, photographs, and memoirs.
'Birth of a Regiment' is thus the prequel actually to my earlier books and contains an incredible wealth of new information about the founding period, training, and the first two combat actions in Sicily and at Salerno. The regiment provided cadres for the 501st, 505th, 506th, 507th, 511th, and 513th Parachute Infantry Regiments. The drop on Sicily has always been described from the perspective of the 505th, but not the 504th, with over 100 paratroopers already taken prisoner of war. Their very story, like that of Lieutenant Colonel Charles Kouns, is now being brought out for the first time – in their very own words. For each company, the reader follows how the landing on Sicily took place and reads about the escape of several paratroopers from captivity.
The battle in Salerno bridgehead earned the regimental motto 'Strike and Hold'. That operation is also followed in detail. Topographical maps I ordered in Italy, combined with photographs, Google Earth, German sources, and war maps supplied me with enough of a picture of the battle. About 6,000 Americans served in the 504th PIR during the war, 644 of whom died – so that's a ratio of 1 to 10. If you have read 'Birth of a Regiment' and 'Spearhead of the Fifth Army', you can understand why the regiment was not deployed to Normandy before D-Day. The loss list by then counted 390 killed and over 200 prisoners of war. So, that is a battalion strength that had fallen away.
How important is contact with veterans to you while carrying out research for your books? Unfortunately, the number of veterans continues to decline every year. How does this affect you and how do you remember the men who have already died with whom you were in contact?
Recognizing the commitment of veterans and their fallen comrades is what matters. The aim of my books is to let them tell the story. Because that is also where my own interest originates: to try to capture the reconstruction of what they experienced in a way that as a reader you can empathize with – at least as far as you can. Veterans were very important in still getting information about fallen and missing paratroopers. The vanishing of 'the Greatest Generation' is accelerating. Obituaries touch me every time: no more phone calls or emails or meetings. Then sometimes a family member writes a year or so later that they read about grandpa or uncle in one of my books, which makes me think back with gratitude for having recorded part of that veteran's war story. On May 4th and 5th [Remembrance and Liberation Day in the Netherlands], they would naturally come to mind. Not only did they fight for our freedom, but they also shared their wartime memories of paying the price for that freedom. We simply cannot forget them but must pass on their stories.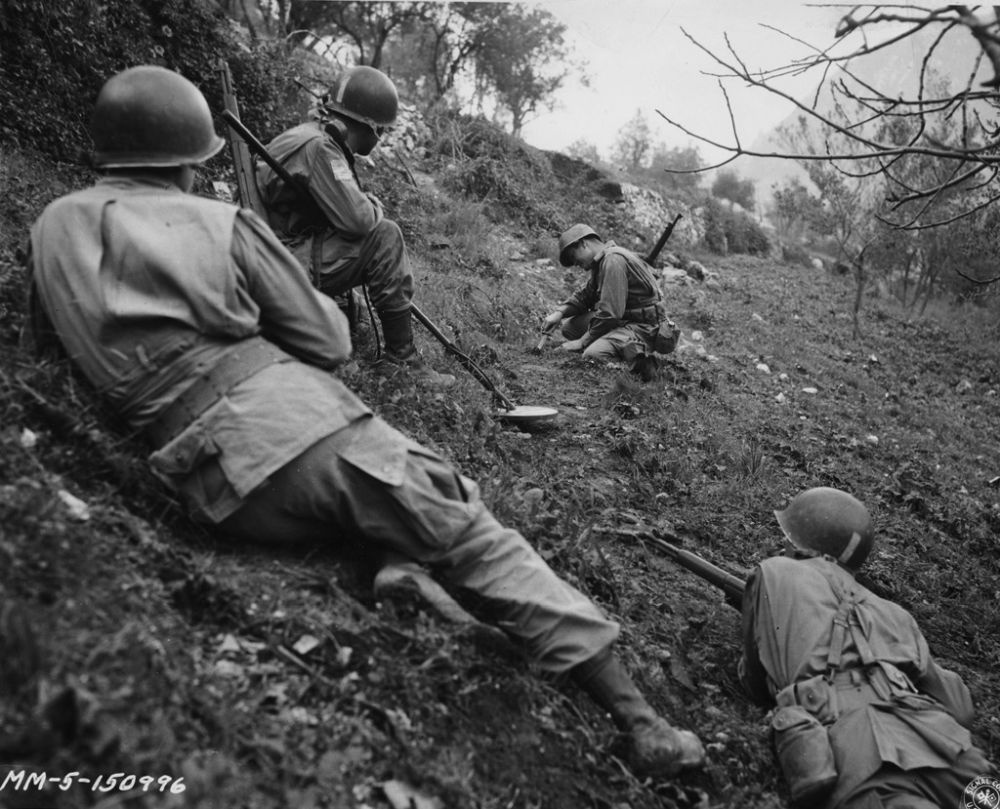 Engineers of the 504th PIR clear a hill near the Volturno River, November 1943.
At this point, you will note that 38 members of the 504th PIR are still missing. Are you in contact with their next of kin and how can you help them? Do you hope more will ever be known about these missing persons and the whereabouts of their remains?
In my opinion, the missing should rather be retrieved by the official authorities. Not by adventurers with a metal detector who want to 'just casually' do that. Various incidents about this have appeared in the Dutch media in recent years, and this is very damaging to the actual search work. Archaeological traces are, as such erased and make identification impossible...
One soldier drowned in the Atlantic Ocean, so finding his body is very unlikely. For the others, there is certainly hope. Several missing paratroopers from the Sicily operation did not perish there but were made prisoners of war. You can read in 'Birth of a Regiment' what happened to some of them, and why they were not registered as prisoners of war. I hope that this new book will be an occasion for the U.S. DPAA to reopen some cases, based also on the eyewitness accounts and sources in my book.
May 1st marked the 80th anniversary of the 504th PIR. How did you reflect on this on that day?
It was a Sunday, and on that day, 'A Bridge Too Far' was in the TV guide for that night on a Dutch channel. Was that a coincidence? Or was it meant to be? Although I have seen the film more than 25 times, I watched it again. The Waal crossing scene with Robert Redford still remains a fine tribute to the 504th PIR.
Operation Market Garden is of particular interest to you. On your website, you mention that the question of why this operation failed concerns you. Have you changed your mind about this over the years, and if so, how did that come about?
Operation Market Garden, in my opinion, is not at all a bridge too far from the British point of view. For example, there were several engineer companies in Nijmegen with assault boats in September 1944 (I have the war diaries), but the literature states for instance that there was not enough equipment to ferry the Poles and the 4th Dorsets. In other words, that is completely inaccurate. It is also interesting that the Guards Armoured Division had totally different attack plans than the airborne troops. No author has ever studied these properly. The ground army had totally different objectives and timetables that were not shared. But for that to happen, you need to explore the deeper layers.
The intelligence services of the Allies failed tremendously. They could know as early as January 1944 that Arnhem was going to be a tough nut to crack. There were also missed opportunities, particularly because the Arnhem OD was ready for action. This resistance group also had weapons, but in merging with the LKP and RVV they wisely withheld them. They also had a radio transmitter, which they tested on September 5 in the attic of the Rijkswaterstaat building – note the headquarters of the 1st Parachute Brigade 12 days later! The loss of Gerhard Wunderink (OD), the Arnhem resistance leader, was a huge blow. Wunderink had been a company commander at Grebbeberg and a true leader as a reserve officer for all resistance groups. Even Piet Kruyff of the LKP – although he only knew him for one week as a leader – praised Wunderink after the war. He is buried at Moscowa, and I think his grave is still deserving of a mention at TracesOfWar. I am working on a Dutch-language book about the Battle of Arnhem from the civilian and resistance groups' points of view. It starts in late August 1944 and continues up to the destruction of the Rhine Bridge in October.
It is no surprise that Operation Market Garden was won by the Germans. They correctly assessed the strategic value of Arnhem, Nijmegen, and Eindhoven much earlier. In particular, Hanns Albin Rauter, through positioning various SS units (i.e., not armored divisions) at strategic locations, supported by Kriegsmarine detachments, anticipated an Allied advance as of early September 1944. The IJssel Line (already planned on paper) is another example. Mussert, Rauter and Seyss-Inquart went to great lengths in organizing all sorts of measures to expand the defense.
The terror against the civilian population before Operation Market Garden is therefore totally underreported in the literature. After the train sabotage took place In Veghel, inhabitants were bluntly told that if it happened again, 1 in 10 men, 1 in 50 women, and 1 in 100 children would be shot or hanged in the city center.
The role of the Dutch SS, which fought with two battalions at Arnhem (not only from September 24 but as early as September 18), is also underexposed. The Dutch SS of Landstrom III (several died along Utrechtsestraat and at Lombok) sometimes fought in their city... Giving up Arnhem was not an option for Heeresgruppe B.
As a World War II researcher, how do you view the Russian invasion of Ukraine? Thanks to your connections with veterans and your research on their experiences, you know what war does to people. Do you believe this war will further contribute to Market Garden commemorations this year?
The war in Ukraine, like many wars, does have recognizable patterns with World War II. For example, such as the story of the fleeing civilian population, one can think of the forced evacuations of Arnhem, Renkum, Wageningen, and other places after the Battle of Arnhem. Civilians are caught between the warring parties in war and become unintentional victims. A family living at Veronicastraat in Arnhem was killed by a British 75mm howitzer fire from Oosterbeek on Sept. 18, 1944. Their artillery targeted the bridge, but several shells (most certainly when fired) landed in the streets on the southeast side of the Rhine Bridge.
It is hard to predict whether the war will still play a role in commemorations. So, it may well be the case at the commemoration of the evacuation of Arnhem.