Iris Mavraki (1954) is a singer and political artist from Greece living in England. Her Jewish mother Frida Wenig-Berliner fled in 1938 from Austria to Rhodes where she met her future husband and father of Iris. He was a Greek, involved in the resistance against the Italian Fascists. Together they fled to Africa where Iris was born after the war. In 2021 she published a book about her family history, titled 'The Unending Journey'. We asked her by e-mail some questions about this publication and the story of her family.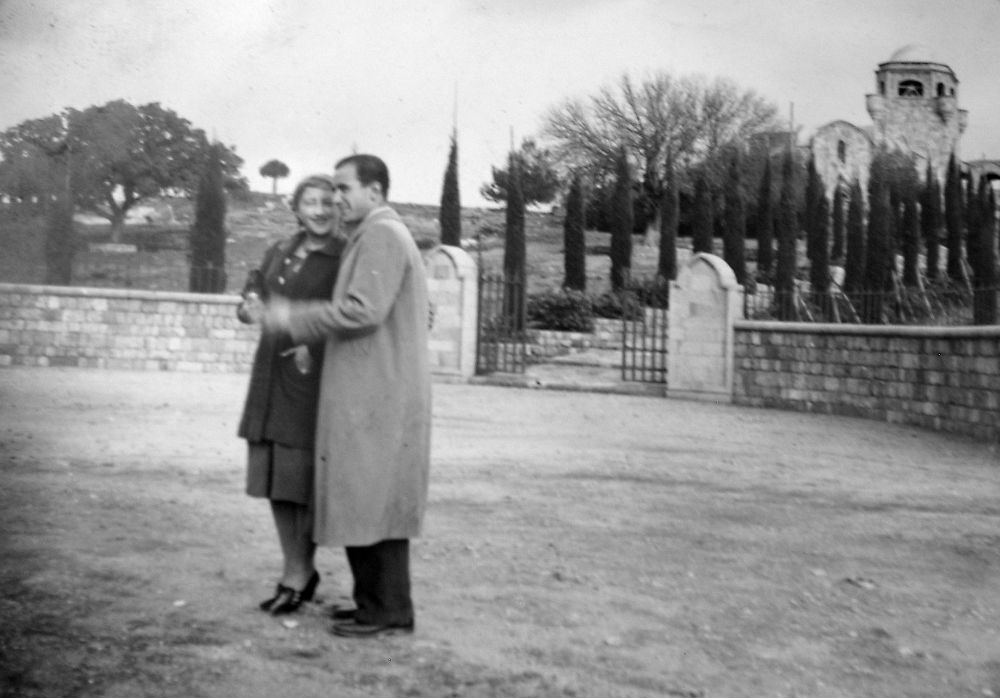 Frida and Lefteris at mount Filerimos on Rhodes, 1938. Source: Mavraki Family Archives
Your mother and her parents lived in Vienna in Austria. What do you know about their lives in this city before and after the Anschluss of Austria to Germany on 12 March 1938?
My grandfather Hersch Itzig Hermann Wenig was from Dobromil in Poland (now Ukraine) and my grandmother Paula Berliner was from Warsaw. They moved to Vienna where they met and married in 1908. They had two daughters, my mother Frida and her sister Frances. At first they lived in Grosse Mohrengasse and then they moved to Rembrandtstrasse in the well-known Leopoldstadt. My mother used to tell us about the years before the war, the lovely times with family and friends, the opera, the famous coffee-houses with live music and where the intellectuals would meet, excursions, the parks, Augarten which was next to their flat, visiting lakes. She did mention to me though, that in Vienna there were many people who disliked the Jews and were racist.
Things had already started to change before the Anschluss which on the 12th March 1938 changed the fate and lives of so many people. When they forced the Jews, especially the older ones, to march holding humiliating placards, my mother would grab one and shout "I am a Jew too". But some people in charge must have found out. A friend of the family, I don't know if he was in the police, warned her to leave. My grandfather had already applied for visas and permits to travel to North America, South America, Argentina or Palestine, but unfortunately their passports expired a month later. On the 27th June 1938 my mother Frida, took a train to Italy, leaving her sister and parents behind. She had relatives I think in Trieste or somewhere in the North East of Italy.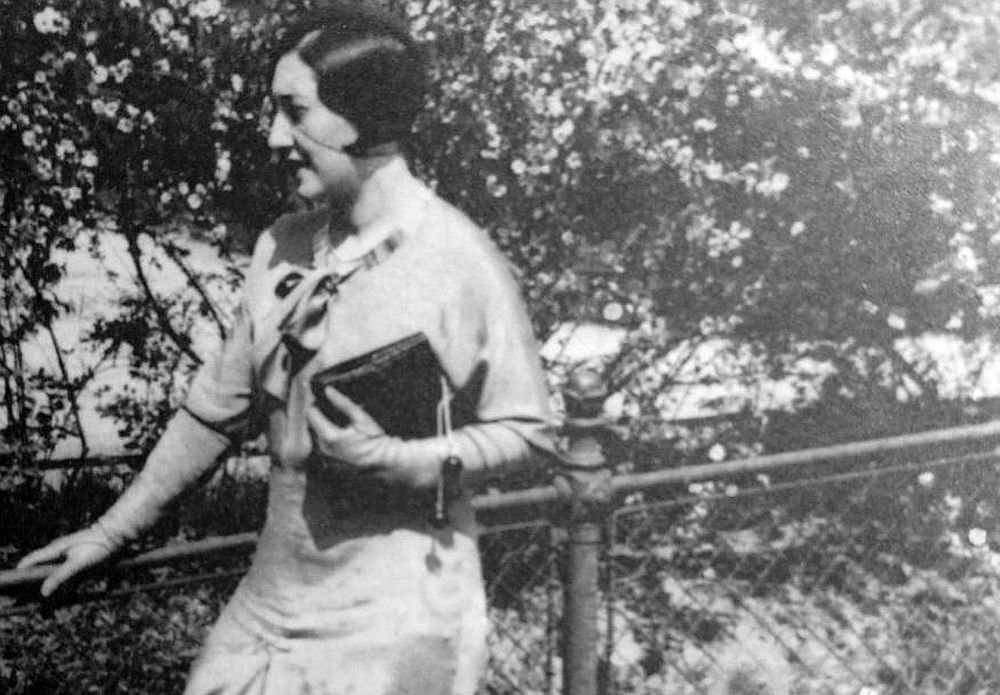 Frida in Augarten, Wien 1932. Source: Mavraki Family Archives
How did your mother manage to flee in June 1938 and why did she choose Rhodes?
My mother was married at that time with her first husband (they divorced the same year). Maybe her passport had not expired yet, so she managed to get a permission to travel. My grandfather was a Jeweller and watch-maker, he gave her some jewellery which she sold and was able to carry on her journey. I have been searching for a long time but could not find any files with passenger's lists. I 'm not sure if she left from Trieste, Fiume or Abbazia. There were ships at that time that connected many ports of Italy with Rhodes which at that time was under Italian Fascist Occupation since 1912. The racial laws in Italy and their occupied colonial territories were implied in November 1938. She probably wanted to go from Rhodes to Egypt.
Your father and mother met in 1938 in Rhodes which was occupied by the Italian Fascist. You describe your father worked for the Greek intelligence and maybe MI6. What kind of resistance activities was he involved in?
My mother reached Rhodes in August 1938. The Dodecanese islands, including Rhodes of course, were occupied by the Italians since 1912. My father Eleftherios (Lefteris) was born in 1913. My grandfather died very young leaving behind a widow with five children. Eleftherios started to work at a very early age, around twelve years old, to help support the family. Many on the Island at first considered the Italians saviours, but they soon realized that the Fascist regime that was imposed on them, would only lead into deeper despair and oppression. They created secret resistance organizations and networks, and their only dream was to get rid of the Italian forces and be united with the rest of Greece that was still free. My father belonged to one of these networks. He was working for SHELL HELLAS LTD Petroleum Company and was able to get information about all the refuelling locations of the Italians. With the help of his friend, Yannis Anastasiadis, who's father owned a paper and bookstore, they copied documents and seals the Italian officials brought there. My father then passed on important information through the Secretary of the Greek Consulate in Rhodes, Georgios Leon, to the Greek Intelligence service and most probably the British Secret Service MI6.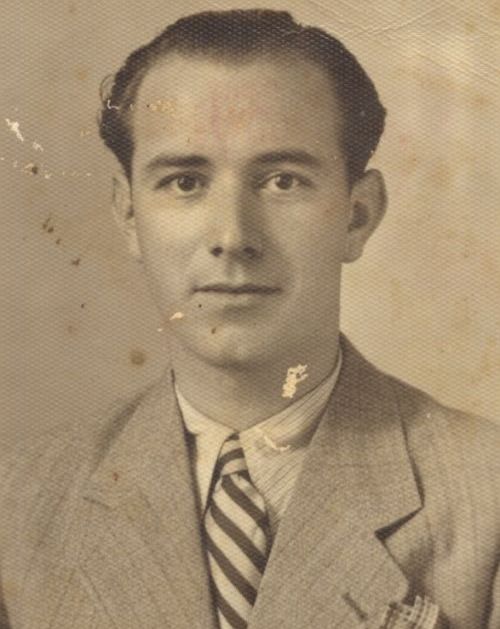 Eleftherios (Lefteris), father of Iris. Source: Mavraki Family Archives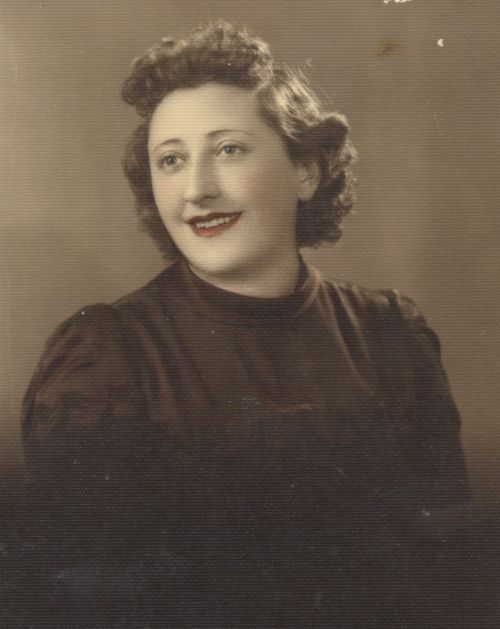 Frida, mother of Iris. Source: Mavraki Family Archives
When and how did your parents flee from Rhodes?
As i said, my parents met in the summer of 1938, but in early 1939 they both had to flee from Rhodes, as soon as possible. The Italians implemented the Racial Law in 1938. Many Rhodian Greeks and Jews had already left for Africa and my father planned his escape. He wrote to the Italian authorities saying he wanted to visit Genova for work for Shell Company. Meanwhile my mother took a boat from Rhodes to Piraeus (Athens). It is unknown how she managed to enter Greece with her Austrian or German (Jewish stamped) passport. My parents were married on the 21st May 1939 in the Catholic Church of Saint Dionysios in Athens by a German Catholic Priest, Father Richard Liebl the head of the Capuchins.
What happened to family members of your mother who were still in Vienna?
My mother with her new marriage certificate was able to get a Greek (Hellenic) passport. Her name and year of birth were altered. With this passport and being tremendously brave and courageous, she visited the German Embassy in Athens and got a visa to travel to Vienna. She wanted to go back and save her parents. She left by train in June 1939 and travelled through Yugoslavia and Hungary. She was pregnant with my eldest sister. When she arrived in Vienna, she gave money for visas and travel documents for her parents, to a lawyer. They were still living in the apartment in Rembrandtstrasse until the 15th April 1940 and then were hiding with my grandmother's sister's Zerline Rubinstein in Tuchlaubenstrasse 16 Vienna, until 1941. The visas and documents never came. The lawyer had swindled them, and my mother had to return to Athens leaving her parents behind not knowing what would happen to them. Most of my grandmother's relatives left for the United States, the United Kingdom, Palestine and Australia, but some in Vienna and Dobromil didn't survive. On 28th October 1941 they arrested my grandmother's sister Zerline Rubinstein who was deported to the ghetto Lodz/Litzmannstadt. Her other sister, that was also living in Tuchlaubenstrasse, Adele Lieber, was deported to Theresienstadt/Auschwitz on 28th July 1942. They both did not survive the Holocaust.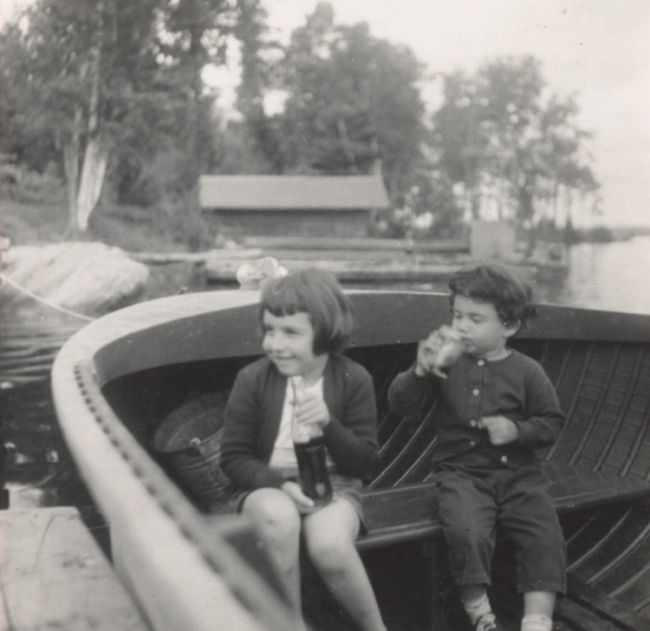 Iris and her sister Doris at White Sands, Brooklyn 1956. Source: Mavraki Family Archives
You also pay attention to two cousins of your mother who were in the SOE. What's their story?
One of my mother's cousins, Egon Berliner, known by nom de guerre as Frederick Michael O' Hara, and another cousin, Noe Czupper, known as Alan Grant, both managed to escape as refugees to the UK. Being German speaking, Alan Grant joined the Pioneer corps and then the SOE (Special Operations Executive). After training he flew to Bari and was dropped by parachute behind the enemy lines in North East Italy and Yugoslavia. He worked with the partisans and blew up bridges and railways lines. The other, also German speaking, Frederick Michael O' Hara, who had joined the SOE too, fought mostly in Yugoslavia. He was shot by the Germans after he had volunteered to go back on a last mission, although the war was at its end. One-day Alan Grant met Michael O'Hara in London and they became close friends without knowing at the time they were relatives. It was only when Frederick Michael O' Hara died, and the British published his real name, that Alan Grant found out that his friend was a related cousin.
When and how did your parents escape to Africa? Did they go straight to the Belgian Congo where you were born?
They had to escape to Athens first in 1939 separately. My father told a lie to the Italians that he wanted to go to Italy, but when the plane landed in Athens he escaped after an argument with the border control police. The Italians declared him a deserter and ordered his arrest. My father left for Egypt on the ship Transylvania and travelled down the Nile to reach the Belgian Congo. My mother gave birth to my eldest sister in Athens in November 1939 and one year later, in September 1940, just one month before the Italians attacked Greece, she left form Piraeus on the ship ELENI to Lisbon with the baby, and then on the SS Quanza to Lobito Angola. She travelled through Africa to reach her husband. I was born in the Belgian Congo, now the Democratic Republic of the Congo.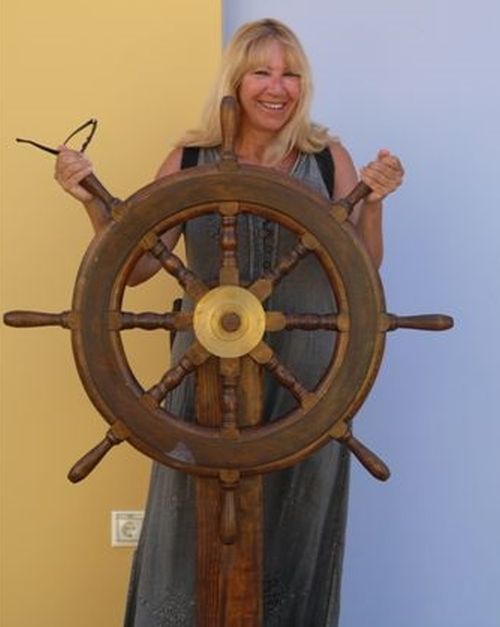 A photo of the author herself. Source: Mavraki Family Archives
As a child, did your parents tell you about their experiences in war time? Do you think they were traumatised or could they cope?
They didn't tell us much. I wish they had told us more or that I had asked more questions. Yes, I think they were both traumatized but they were very brave. Just think of the unbelievable journeys they did, the courage, many times risking being caught and killed. But as you know life has to go on and so they had to move on.
When did you decide to write a book about the war time experiences of your mum and dad? What sources did you use?
I wanted to write a book for many years, but I had to fight with my own feelings and to confront the past. That's why I went on my first trip to Vienna to visit the house where my mother and parents lived. 'The unending journey' for me is part of a constant fight against the far-right in all its forms. It's a family's courageous journey through turbulent times and historic periods in many countries.
I used documents and photos from my parents and family, from different archive,s like the GAK-Greek State Archives of Dodecanese, the Israelitische Kultusgemeinde Wien and the Wiener Stadt- und Landesarchiv.
How was your own life influenced by your family history?
Their life and story affected me a lot. I travelled from the age of almost two, and saw many places, heard many stories. We left the ex-Belgian Congo when I was six years old, when the Congo crisis began. It took many years for me to find out about the terrible torturing and assassination of prime minister Patrice Lumumba. I became a singer and a musician and throughout my career I always tried to spread messages, for many years I tried to create a cultural bridge with Turkey. Greece and Turkey have had a long lasting problem.
What did influence me a lot was that my parents never taught me to hate. All my life I have been fighting against Nazism, Fascism and Racism in all its forms. You have to keep fighting to preserve peace and a safer world. And I tried to do it also through singing and music, art, activism, writing.