Forgotten is the story of an all-black battalion whose crucial contributions on D-Day have gone unrecognized to the present. In this blend of military and social history, Linda Hervieux brings to life the injustices of 1940s Jim Crow America and finally pays tribute to the valor of these brave young men. We asked her some questions by e-mail about her book.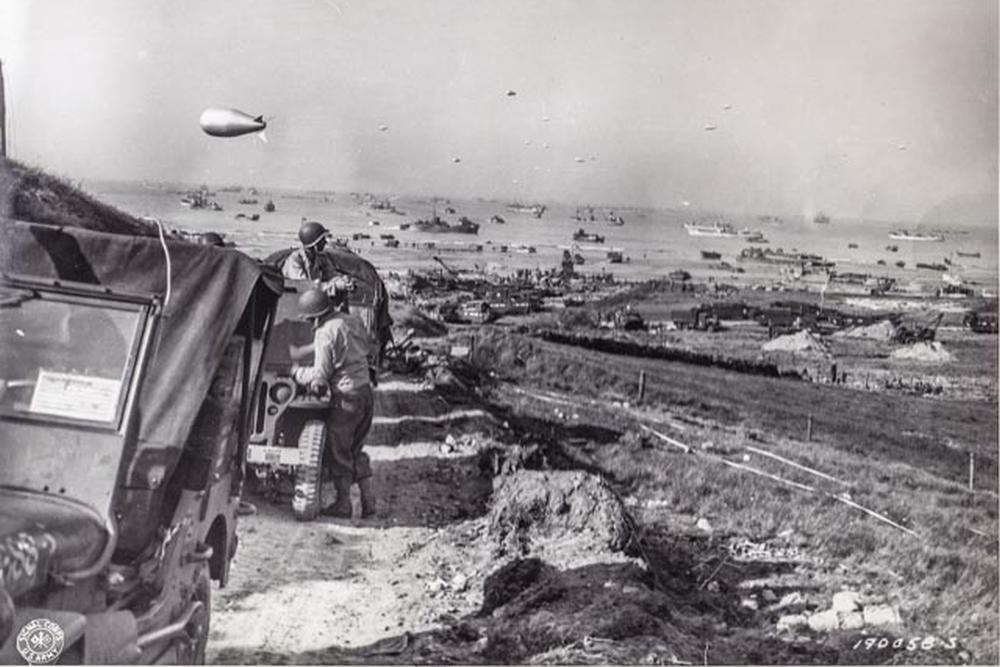 Barrage balloons flying at Utah Beach on June 9, 1944. Photo: National Archives and Records Administration
Could you tell a bit more about yourself? Were you already interested in World War 2 before writing your first book?
I'm an American journalist living in Paris, writing about general topics of interest. I had a basic knowledge of WW2 but no specialized interest before an assignment turned me onto the story that I would turn into my book
Forgotten
.
Your book is about the U.S. 320th Barrage Balloon Battalion. What kind of unit was this and when did you hear from it for the first time? Why did you decide to write a book about it?
The 320th Barrage Balloon Battalion was a specialized unit of U.S. Army soldiers trained to fly barrage balloons over a target area, in the case of D-Day, over Omaha and Utah, two of the five invasion beaches. The balloons were inflated with flammable hydrogen and raised with the aid of a winch on the ground. The balloon cables operated by the men from the ground sent these craft up to 2,000 feet into the sky. An enemy plane that snagged the cable could stall and crash, and these balloons also packed a secret punch: A small bomb fastened under the balloon that would drop down with a cable strike and potentially blow a hole in a wing or explode the gas tank. The balloons formed a sort of aerial curtain over the beaches.
The origin of the story was the French government's decision to present the country's highest award, the Legion of Honor, to an American veteran for the 65th anniversary celebration of D-Day. I wrote about the man who was honored, William Dabney, who was a member of the 320th. It seemed a shame to do only one newspaper story on these men – D-Day's only Black combat unit, who were written out of the story of D-Day. Movies do not show them and most books do not mention them.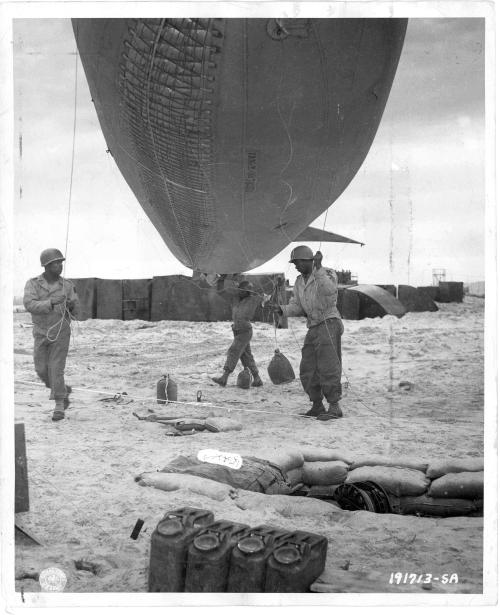 This is the only known image of the 320th on Omaha Beach. Photo: National Archives and Records Administration
How important was the role of barrage balloons in World War 2 and during which military operations was the 320th deployed?
Barrage balloons proved successful in the Allied campaign in Italy, with several American balloon units landing with the infantry in November 1943. Balloons were used to protect defense installations in Great Britain and along the coasts in the U.S., where they were highly effective. That is why they were tapped for the Normandy landings. The 320th was later deployed to the Pacific and they were training in Hawaii, probably en route to the war with Japan, when the war ended.
One of the main characters in your book is a medic, Waverley Woodson Jr., who served in this unit. Could you tell us a bit about him?
Wavelry Woodson was a university student when he signed up to serve his country. He was a medic who was injured on the approach to Omaha Beach, yet he saved dozens if not hundreds lives during 30 hours before he collapsed from his own injuries. His story is one of bravery and heroism yet he has not been fully recognized for his valor.
During your research, you came across documentation that indicates Woodson might be eligible for the Medal of Honor. Woodson's commander, Lt. Col. Leon Reed, recommended the Distinguished Service Cross, the second-highest award, yet Woodson received the Bronze Star, which is the fourth-highest. Why do you think that happened?
We know that Woodson was nominated for the Medal of Honor, America's highest award for valor, yet he did not receive it. No Black soldiers did during World War 2. A report commissioned by the Army concluded in 1995 that racism was to blame for the Army's failure to recognize Black soldiers, both in the assignments they given and in the honors they did not receive for their bravery.
An initiative was started to award Woodson posthumously with the Medal of Honor. What steps must be taken to achieve this? How is the process going and is there something that our audience can do to help with this?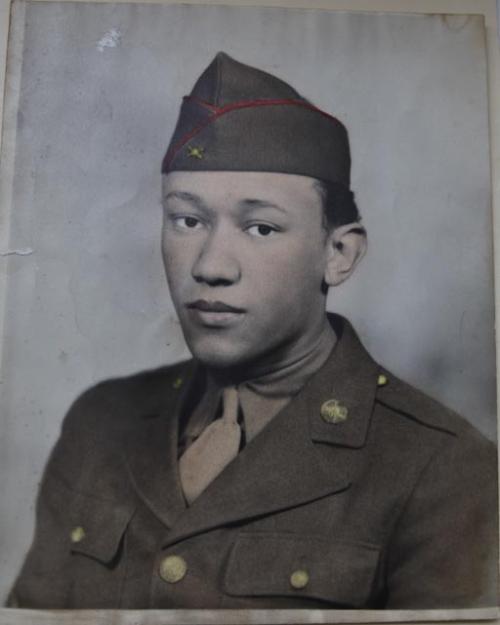 Waverly Woodson's first Army portrait. Photo: Courtesy of Joann Woodson
There is a campaign underway now to secure this honor for Woodson posthumously, led by his family and a senator from his home state of Maryland. Support is building. Many members of Congress now support the effort and the (now retired) commanding General of the First Army has written in support of the honor. We think it will succeed, finally, after so many years, though the U.S. military is notoriously reluctant to correct historical wrongs. They don't want to set precedents, but we believe Woodson's case deserves a fresh look.
The Woodson family petition is linked via
my website
, and all US residents are eligible to sign it to show support.
What lessons for the present time can be learned from your book?
We are living in a time of increasing intolerance and a reluctance to confront the mistakes of our past and set them right. The lesson from the men of
Forgotten
that we can learn is this one: it is never too late to recognize our heroes, to apologize for the mistakes of those who came before us, and to remember that human rights are precious. Those who are fighting today for freedom, equality and acknowledgement take inspiration from the fighters who came before them. The U.S. civil rights movement inspired the world. And it's not over yet.
Do you already have plans for writing a new book and will it again be about World War 2 history?
A team is currently working on a documentary about the hidden heroes of World War 2, including the men of the 320th. I am honored to be interviewed for this project and I hope it will help keep these men in our consciousness. There is also a film in production to honor the 6888th Battalion, the only African American unit of women to serve abroad. As for me, I'm not sure what is coming next but I am so happy these brave souls from a painful chapter of our global history will not be forgotten.
Forgotten

The Untold Story of D-Day's Black Heroes
ISBN: 9781445686615