Roger Moorhouse is a historian and author specialising in modern German and Central European history, with particular interest in Nazi Germany, the Holocaust and World War Two in Europe. A visiting professor at the College of Europe in Warsaw, he is also the author of a number of books on modern German history, including "Killing Hitler", "Berlin at War", "The Third Reich in 100 Objects" and "The Devils' Alliance". His latest book "First to Fight: The Polish War 1939" - on the September Campaign that opened World War Two in Europe - was published in September 2019. We asked him some questions by e-mail about this book.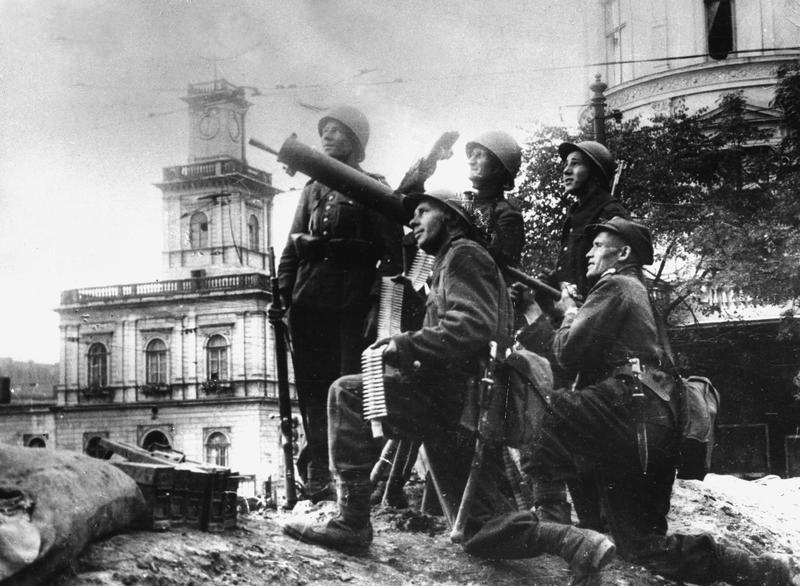 Polish soldiers from anti-aircraft artillery unit during the Siege of Warsaw by the Germans in September 1939. Source: Wikimedia Commons
When and why did you decide to write a book about Poland's War of 1939? How long did you work on it?
I realised while I was writing my earlier book, "The Devils' Alliance", about the Nazi-Soviet Pact, that the September Campaign was woefully underappreciated in the Western narrative of World War Two, and that most of what we think we know about it is just wartime propaganda and mythology. So, naturally, I wanted to rectify the situation! I wanted to challenge the myths, tell the real story – from all sides – and, crucially, restore the Poles to their own narrative. Consequently, there was a lot of primary archival research involved, so, about a year of research, then the writing phase took me about 18 months.
The Polish struggle of 1939 is a long neglected subject in WW2 history books. What's your explanation for this?
Essentially, as the old line has it – "history is written by the victors" and so in the case of Poland in 1939, there was no-one to tell the story – at least no-one to tell the story honestly. The Germans published a lot of material on it in 1940-41, most of it useless as it is full of propaganda, but no-one else did. Post-war Germany had bigger crimes to expiate, so didn't talk about it. Likewise, post-war Communist Poland found no benefit in telling the story, except to damn the pre-war regime; the Soviets were keen to deny their involvement as Hitler's ally in the early phase of the war, so they actively denied their participation – indeed some of Mr Putin's propagandists still deny that the Red Army invaded Poland in 1939! And, the British and the French had bigger concerns when telling their wartime stories – not least focussing on their own successes, rather than their abject failure to help Poland. As a result of all of that, the story of the September Campaign of 1939 fell through the cracks and has rarely been properly discussed, except to simply repeat the old myths and propaganda stories.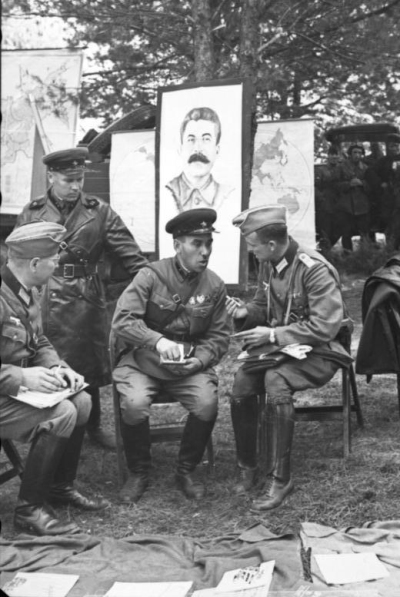 Meeting between German and Soviet officers at Brześć Litewski in Poland, 22 September 1939. Source: Bundesarchiv, Bild 101I-121-0011-20 / CC-BY-SA 3.0
What was the most difficult aspect of writing this book?
I suppose the most difficult aspect is the same aspect that makes me want to do books like these in the first place; the fact that nobody has really done it before, so you feel that you are really flying solo. No-one else has attempted the same thing as you are attempting, so you have to rely entirely on your own judgement as to what's significant and what important. That is both daunting as well as exciting. But honestly, I wouldn't have it any other way. I find the idea of writing a book similar to one that someone else has written utterly boring.
Secondary to that is the emotional impact of the work. As a historian, one is meant to remain objective, but sometimes the sheer human drama of the material cannot fail to affect you. One feature of this book is the sheer weight of atrocities and massacres that were carried out against Polish soldiers and civilians, by both the Germans AND the Soviets, and writing and researching those accounts was a very harrowing experience. There were a few sleepless nights.
What was the most rewarding aspect of writing it?
The most rewarding aspect has been the responses of readers – especially those UK readers of Polish extraction – who felt most keenly that omission of the story of the forebears' efforts in 1939. On quite a few occasions I have had emotional readers thanking me for having finally "told their story". That's a wonderful thing.
You researched a lot of primary sources, like war diaries and official reports. Which of these have moved you the most?
Oh, so many. An essential part of the book, for me, was to put the Polish voices back into the narrative of the 1939 campaign. Where the subject had been written about at all previously, it was addressed using only German sources (if that), so it was crucial for me to find Polish first-hand material. And, of course, some of those sources are absolutely searing. The stories of atrocities are particularly harrowing, but also the accounts of ordinary Polish soldiers fighting a superior (and utterly ruthless) opponent. Many of those personal stories have stayed with me. One example is the account of the wife of a Polish general, who was executed by a Red Army patrol. She had been travelling with him when they were intercepted and he was taken away – she thought for questioning. Soon after, a Soviet soldier silently presented her with the General's briefcase, spattered with his blood. She remembered that it was still warm...
Which aspects of your research did not make the final cut and do you regret any of these final decisions?
Not many actually. An essential part of the historian's art, of course, is deciding which parts of research to leave out. Often that research was hard won, and so it can be hard to leave it out, but with this book, the writing process was so smooth that I was happy with the decisions I made. No regrets!
Now that have published this book, do you have plans to start a new research project?
My new project is already underway! I'm researching now for a book on the Polish passport operation during World War Two, which sought to rescue Jews from the concentration camps using forged Latin American – especially Paraguayan – passports. It was run out of the Polish Embassy in Switzerland and is thought to have saved many thousands of Jews, including Dutch Jews. It's a fascinating story and I'm looking forward to telling it.
First to Fight

The Polish War 1939
ISBN: 9781847924612