Our Parachutists Led the Way at Bruneval
The War Illustrated, Volume 5, No. 124, Page 573, March 20, 1942.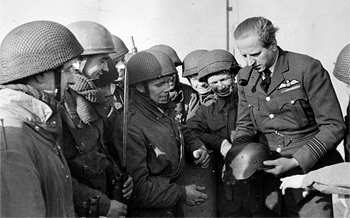 Wing-Com. Pickard, D.S.O., D.F.C., the leader of the R.A.F. carrying force of bombers which took part in the raid, examines a captured German steel helmet. Photos, British Official: Crown Copyright.
A combined raid, in which the Royal Navy, Army and R.A.F. cooperated, was carried out on the night of Feb. 27 against an important German radiolocation post at Bruneval, 12 miles north of Le Havre.
The carrying force of bombers was led by Wing-Commander P. C. Pickard, D.S.O., D.F.C.
The parachute descent force, led by Major J. D. Frost, was dropped, in bright moonlight and slight mist, within reach of the objective, despite enemy flak concentration upon the low-flying aircraft during the run-up.
Diversionary operations were carried out by fighter aircraft. The ground operations were carried out according to plan in the face of strong enemy opposition. In spite of all efforts by German defence troops the apparatus was completely destroyed and heavy casualties were inflicted by out parachutists.