In 2003, STIWOT received from mr. M. G. van Hemmen from Boxtel a number of photos. It are photographs of the German V-weapons, which are exposed for the public. The photos were taken at the Groenplaats in Antwerp, Belgium. The V4 in the lower left photo is a Fieseler Fi 103R Reichenberg, also called V1 Reichenberg. Nowadays this one can be seen in the La Coupole museum.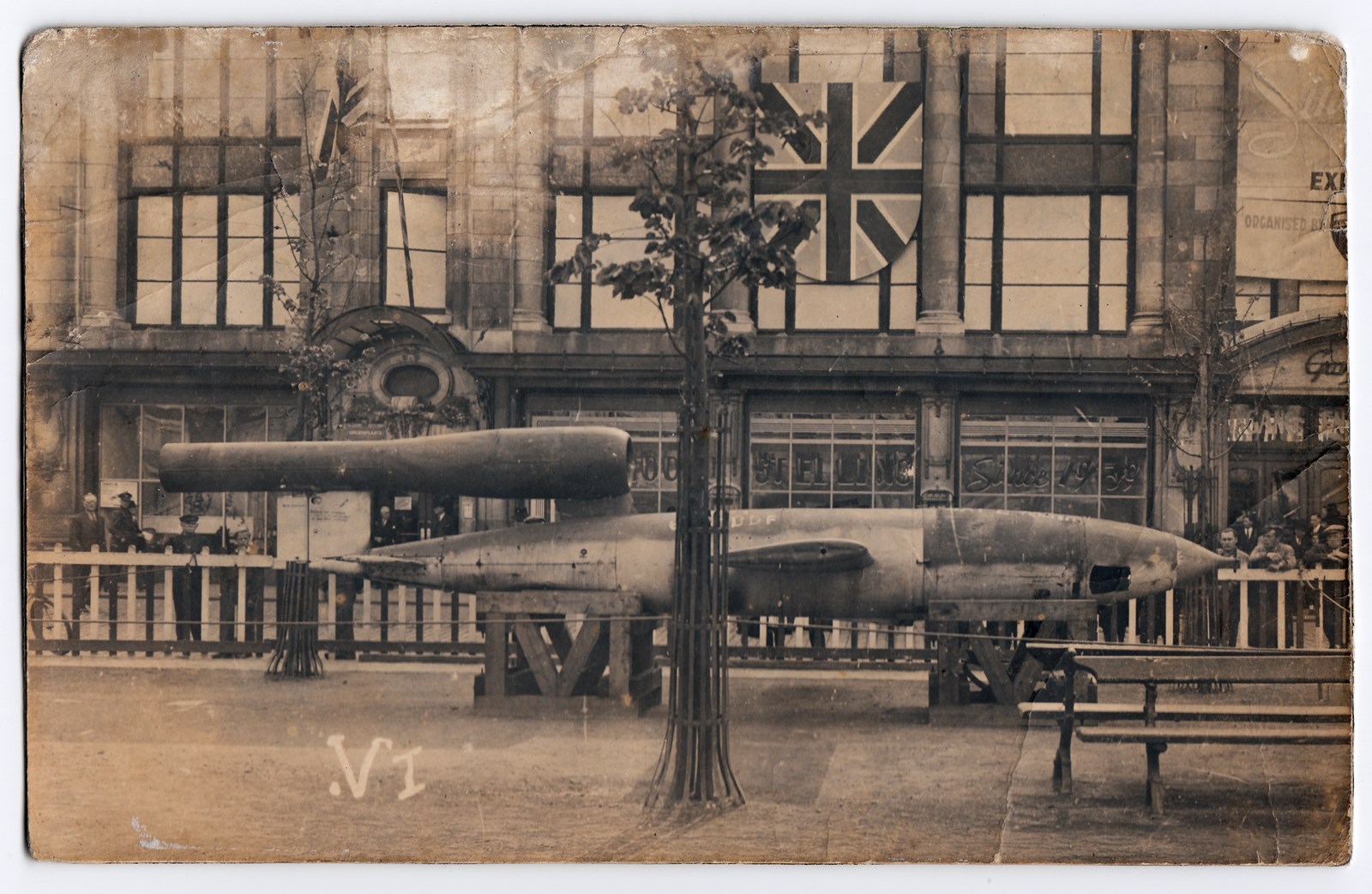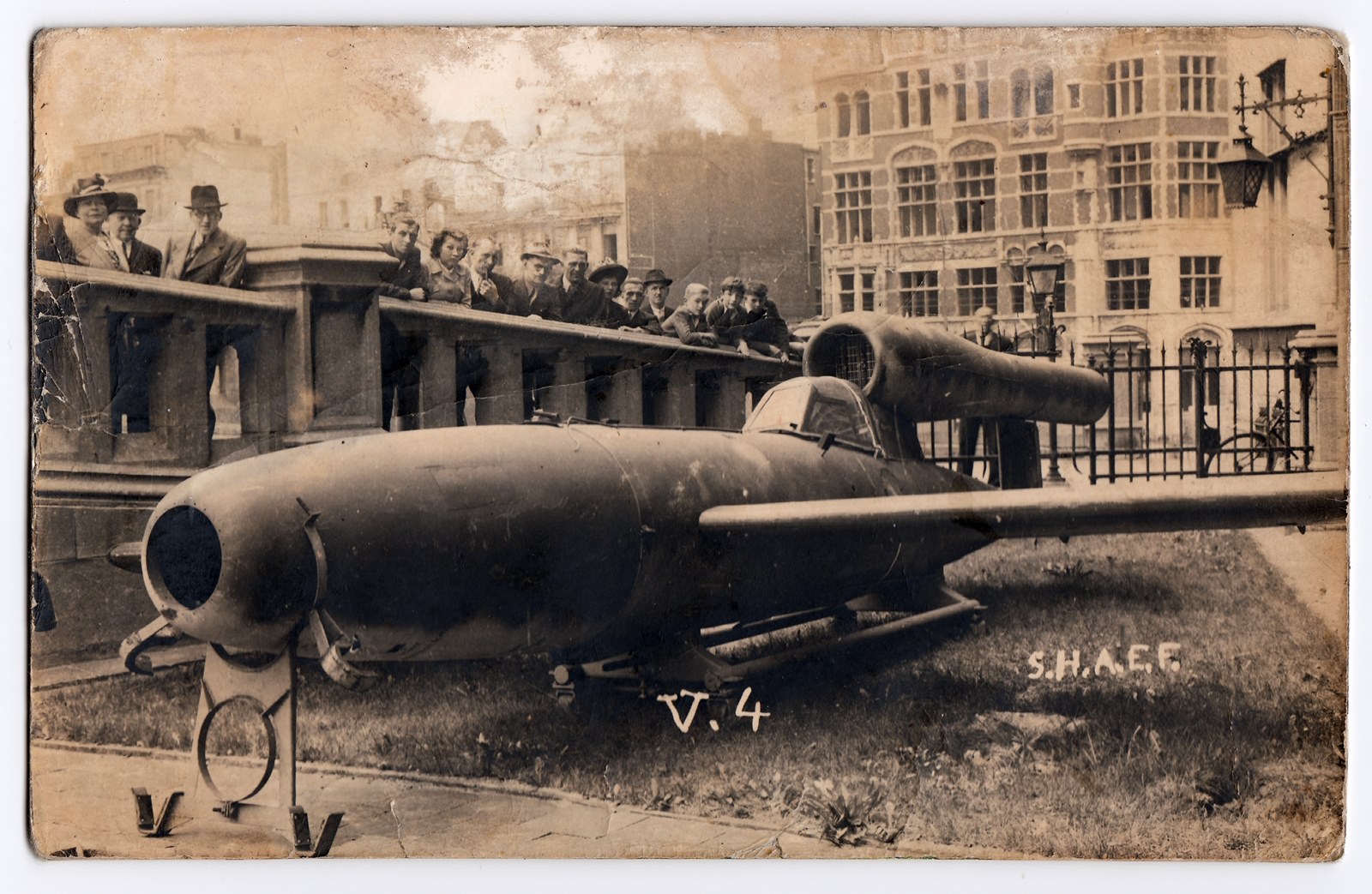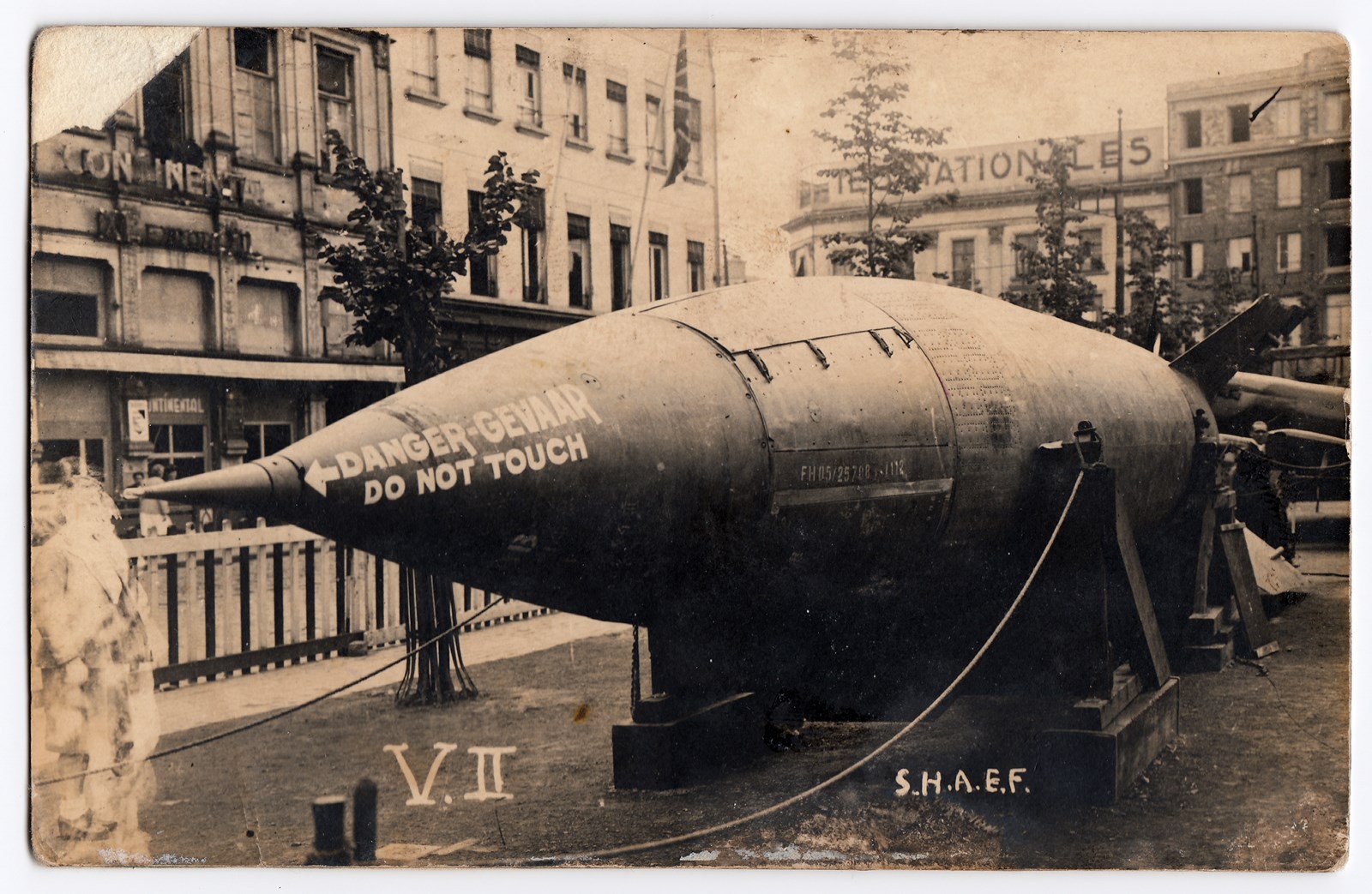 Additional information was provided by Eddy van Deun:
The photos were taken shortly after the liberation, I suppose, you can tell by the flag shields hung on the large building (UK and US flags).
The V1 and V2 were then placed on the Groenplein (sometimes incorrectly referred to as Groenplaats) in the center of Antwerp, not far from the Cathedral of Our Lady. I even suspect that the two pictures related to V2 are from the same device but were taken from a different angle. The large building in the background of the two upper photos then housed the "Grand Bazar" department store (see the name on the fronton of the entrance). In the 90s this was transformed into the Antwerp Hilton Hotel. The background on the left, of the photo below on the right, shows the grand café with terrace (now a shopping center) that was located next to the department store. The large white building on the corner was later transformed into a covered parking building belonging to, and with direct access to, the large department store. On the roof of the white building at the back (across the street) you notice a part of the name "IES NATIONALES" actually it must be GALERIES NATIONALES but I think the first piece of the advertising panel did not survive the end of the war. There is nowadays also a statue of the painter P.P Rubens on this Groenplein (I don't know if it was already there during the war). The photo with the V4 was not taken far away from the others, namely on Steenplein. We see the ramp that goes from the square to the higher entrance of "Het Steen" (castle on the banks of the Scheldt). The photo was taken with the back to the Scheldt and we see the houses of the Ortelius quay in the background.
This therefore concerns unexploded aircraft fired from Germany to hit the port of Antwerp. A well-known hit is that of a V2 device at the REX cinema on "De Keyserlei".
Special conditions may apply to the use of archival material. For more information, please
contact us
.