Elvin Bell, an orphan from a Jamaica region of New York was serving aboard USS Lexington. When the aircraft carrier ran into problems, on the 8th May 1942, after it had been hit by Japanese bombs and torpedoes during the Battle of the Coral Sea, Elvin was the one, who went back to rescue three other sailors from fire. For this deed he was awarded the Navy and Marine Corps Medal.
USS Lexington
USS Lexington, an American aircraft carrier, was commissioned in 1928. She was initially built in 1921 as a battle cruiser, in 1922, however, she was converted into an aircraft carrier. The Lexington was assigned to the US Pacific Fleet and had a crew of 2,122 men. During the Japanese attack on Pearl Harbor, the ship, along with a few other ships, was on its way to Midway to deliver naval aircraft. After the news of the Japanese attack came, reconnaissance planes were sent to locate the attackers, but they didn't succeed. A bit later, Lexington set off to reinforce the island of Wake in the northern Pacific Ocean, however, on the 20th of December, the order was canceled. The ships made their way back to Pearl Harbor, where they arrived on the 27th of December. It wasn't until February 1942, when the enemy went into attack, near the island of Rabaul, and 17 of 18 Japanese planes attacking Lexington got shot down. Edward O'Hare was awarded the Medal of Honor for shooting five of the attacking bombers.[1]
On April 15th, 1942, USS Lexington (CV-2) departed from Pearl Harbor again. As Japanese fleet concentrations threatened to take over the Coral Sea, it was decided to dispatch Lexington and USS Yorktown (CV-5). If the Japanese were to control the Coral Sea, the connection between New Zealand and Australia would be severd, and the countries would run the risk of an invasion.
The Americans didn't know exactly, where the Imperial Japanese Navy was situated, though the location was roughly known. On May 7th, the Japanese light aircraft carrier Shoho was sunk by aircraft from the Lexington and the Yorktown. This was the first Japanese aircraft carrier that was sunk. The Japanese, in their turn, thought that they had managed to sink an aircraft carrier, too, when they attacked the tanker the USS Neosho and her escorting destroyer the USS Sims. During the battle they sank USS Sims, while badly damaged USS Neosho had to be scuttled on May 11th by destroyer USS Henley. In total, the tanker got hit eight times, including a suicide attack by a Japanese aircraft. Later, on May 7th, more air fights followed, but the Japanese and American aircraft carriers would only meet the following day.[2]
Air strike on USS Lexington (CV-2) on the 8th May 1942. Photographed from a Japanese aircraft. Source:
Naval History and Heritage Command
Damaged in the battle
About the same time, Japanese and American fleets spotted each other during the Battle of the Coral Sea. 69 Japanese aircraft attacked Lexington, Yorktown and their escorts at about the same time. At 11:20 Lexington was hit port side by a torpedo. A second torpedo followed a few seconds later, also on the port side. In addition, three bombs hit the ship.
Due to the damage, the ship listed 7° to port and a few fires broke out. Several men were killed or wounded by shrapnel. Water got inside the ship through the hull. Hydraulic pressure dropped, which resulted in two stuck elevators, making it impossible to transport aircraft from top to bottom or vice versa.[3]
Although the fire seemed under control and the situation was stabilizing – the ship was even upright again – at 12:47 another big explosion followed. Gasoline vapors came into contact with open fire and exploded. It was difficult to fight the fire due to the smoke. There was no special fire-resistant clothing, and, in addition, correct nozzles were missing too. Then, new explosions followed every 15 to 20 minutes. Two major explosions occurred at 13:19 and 14:45. Although, the crew made frantic attempts to get the fire under control, they failed. With every new explosion, old seats of a fire flared up again or new fires occurred.[4]
Among the men who tried to save the ship was Elvin Bell. With other crew members he did all he could to help. Despite exhaustion, he kept trying to prevent the ship from going up in flames.
Slowly it became clear that the ship couldn't be saved. Commander Mort Seligman who was in charge of evacuation, summoned all the men who were near, including the reporter Stanley Johnston, around him and said: "There are three men in hold So-and-So. That's below the fire. To reach them, one of you must walk around the fire and through passage X."
Bell, who was wearing a smoke mask, stepped up and said softly:
"I'll go, Sir".
"Are you sure you know how to reach them?" Seligman asked.
"Yes, Sir. I know the way."
"Do you realize that you may never make it, or, may never come back?"
"Yes, Sir. I do. But I still would like to try," Bell answered.
Seligman gave his approval and assured, he would wait with some other crew members until Bell came back..[5]
Bell had to walk through various long corridors, and downstairs to reach the sailors. In the meantime, the air got really hot due to all the fire. And still he managed to reach the three men. Meanwhile, the rest was waiting nervously for Bell to come back. When he finally appeared, he was not alone, but was accompanied by the three rescued sailors..[6]
At 17:07 the order was given to abandon ship. 2770 crew members and officers were taken off. Some of them were transferred to the other ships. The rest had to wait in the water, until they could be rescued. Lexington was eventually sunk by a torpedo from an American destroyer, to prevent the Japanese from claiming, they had sunk the ship. The aircraft carrier disappeared underwater around 20:00, followed by a powerful explosion.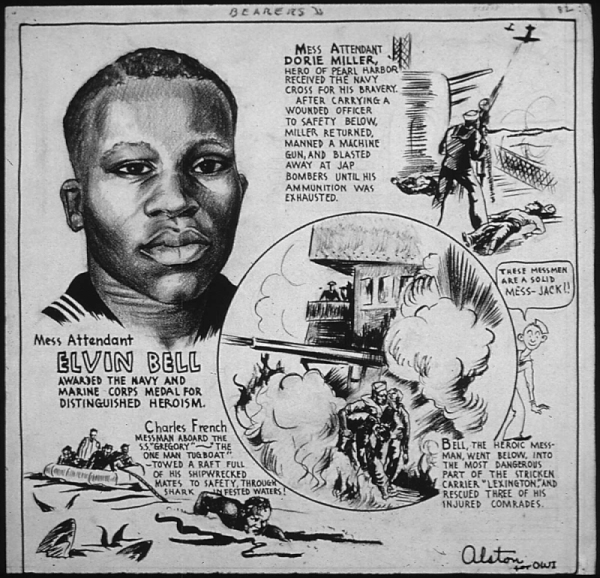 Even cartoons were made to honor Elvin Bell's heroic deeds. Source:
US National Archives
Medal
For his deed of 1943 Elvin was awarded the Navy and Marine Corps Medal. This medal was given because it concerned non-combat actions. Bell's name appeared in newspapers:
"Navy secretary Knox, on behalf of President Roosevelt, has awarded decorations to two officers and eight enlisted men for heroism. Among the enlisted men, who received the Navy and Marine Corps medal for service aboard the Aircraft Carrier Lexington in the battle of the Coral sea, was Elvin Bell, mess attendant third class, 20, foster child of Miss Marie Lofton, Jamaica, N.Y. […] "[7]
The official citation reads:
"The President of the United States of America takes pleasure in presenting the Navy and Marine Corps Medal to Machinist's Apprentice Third Class Elvin Bell (NSN: 6460419), United States Navy, for heroism involving voluntary risk of life not involving conflict with an armed enemy, while serving aboard the Aircraft Carrier U.S.S. LEXINGTON (CV-2), on 8 May 1942, during the Battle of the Coral Sea. Machinist's Apprentice Third Class Bell voluntarily joined a repair party fighting fire in an area frequented by violent explosions of gasoline vapor and ammunition and, although emerging in an exhausted condition, unhesitatingly entered the most dangerous section of the stricken carrier and assisted in removing injured personnel who had been trapped below decks. His courage and utter disregard for his own safety were in keeping with the highest traditions of the United States Naval Service."[8]
We don't know what happened to Elvin Bell afterwards. As a result of the experiences of USS Lexington (CV-2), as many as 15 asbestos suits, suitable nozzles and 60 sets of breathing equipment were delivered to other aircraft carriers.[9]
Notes
Naval History and Heritage Command, 'Lexington IV (CV-2) 1927-1942' (version 19 januari 2016), www.history.navy.mil (19 november 2018).
Naval History and Heritage Command, 'Neosho II (AO-23): 1939-1942' (version 9 december 2016), www.history.navy.mil (14 januari 2019); Naval History and Heritage Command, 'Lexington IV (CV-2) 1927-1942' (version 19 januari 2016), www.history.navy.mil (19 november 2018).
Naval History and Heritage Command, 'USS Lexington (CV2) Loss in Action: Coral Sea, May 9, 1942' (version 15 september 2018), www.history.navy.mil (19 november 2018).
Naval History and Heritage Command, 'USS Lexington (CV2) Loss in Action: Coral Sea, May 9, 1942' (version 15 september 2018), www.history.navy.mil (19 november 2018).
Gertrude B. Rivers, 'Negro heroes in the present war', Negro History Bulletin (1 mei 1944) 188.
United States of America Congrassional Record, Proceedings and debates of the 78th congress, first session vol. 89.3 'April 6, 1943 to May 13, 1943' (1943) 1960.
'Watertown boy wounded at sea cited by Knox,' Ogdensburg journal, 2 februari 1943.
The Hall of Valor project, 'Elvin Bell,' valor.militarytimes.com (19 november 2018).
Naval History and Heritage Command, 'USS Lexington (CV2) Loss in Action: Coral Sea, May 9, 1942' (version of 15th September 2018), www.history.navy.mil (19th November 2018).