The text below was pronounced by Adolf Hitler on the German radio at 1:00 a.m. on 21 July 1944, after the attack and coup of 20 July 1944.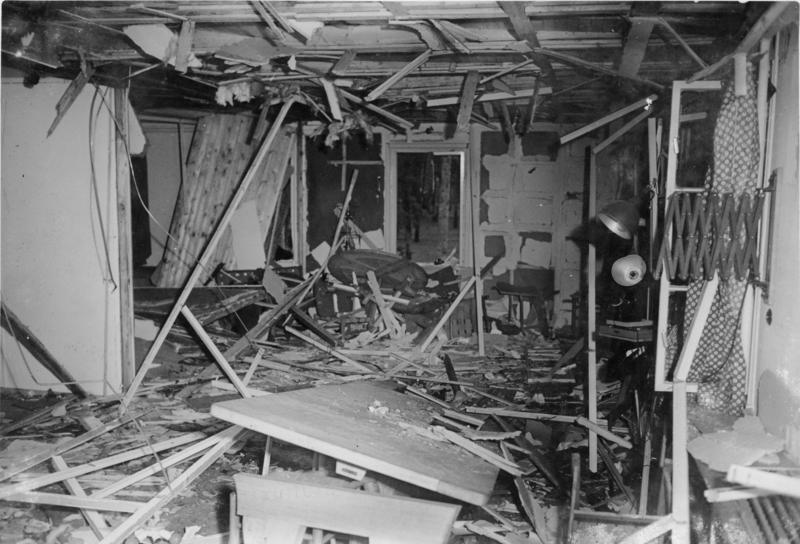 Bomb damage in the conference room at the Wolfschanze. Source:
Bundesarchiv, Bild 146-1972-025-12 / CC-BY-SA 3.0
German national comrades!
I do not know how many times meanwhile an attempt on my life has been planned and carried out. When I speak to you today, it happens for two reasons:
1. So that you hear my voice and know that I am unhurt and healthy myself.
2. So that you can learn more about a crime that is unparalleled in German history.
A very small group of ambitious, unscrupulous, and at the same time unreasonable, criminal-stupid officers has plotted a conspiracy to eliminate me and at the same time to wipe out with me practically the whole general staff of the German Wehrmacht. The bomb, which was laid by the colonel count of Stauffenberg, exploded two meters on my right side. It has severely injured a number of my dear employees, one of them died. I myself am completely unhurt except for very small skin abrasions, bruises or burns. I take it as a confirmation of the mission of Providence to continue to pursue my life purpose, as I have done so far. For I may solemnly confess it before the whole nation that from the day on which I entered the Wilhelmstrasse I had but one single thought, to fulfil my duty to the best of my knowledge and belief, and that, since I realized, that the war was inevitable and could no longer be postponed, that since then I have lived only for my people in worry, in work and worry, and in countless days and sleepless nights!
In an hour in which the German armies are standing in fiercest struggles similar to those in Italy, now a very small group has found themselves in Germany, who believed that they could stab the dagger in our backs like in 1918. But this time they have been very wrong. The claim of these usurpers that I was no longer alive is now refuted at this moment when I speak to you, my dear national comrades. The circle represented by these usurpers is the smallest possible. He has nothing to do with the German Wehrmacht and especially with the German army. It's a very small gang of criminal elements that are now ruthlessly eradicated. I am therefore commanding at this moment:
1. That no civil authority may accept any command from a service which these usurpers claim.
2. That no military authority, no leader of a troop, no soldier has to obey any order of these usurpers, on the contrary everyone is obliged either to arrest the transmitter of such an order or the giver of such an order immediately or to instantly slay him in case of resistance.
In order to definitively restore order, I appointed Reich Minister Himmler commander of the domestic army. I ordered Colonel General Guderian to take a seat in the General Staff to replace the Chief of Staff, who is currently missing due to illness, and appointed a second proven leader of the Eastern Front as his assistant.
Nothing changes in all other authorities of the Reich. I am convinced that, with the defeat of this very small clique of traitors and conspirators, we finally will create the atmosphere in the back of our homeland that the fighters at the front need. For it is impossible that hundreds of thousands and millions of brave men give their best, while at home a very small group of ambitious, miserable creatures constantly tries to thwart this stance. This time they will be called to account in the way, we as National Socialists are used to.
I am convinced that every respectable officer, every brave soldier, will understand that at this hour.
What fate would have affected Germany if the assault had been successful today, perhaps only a few can imagine. I myself do not thank Providence and my Creator for having preserved me – my life consists only of being concerned and of working for my people – but, if I thank him, just because he gave me the opportunity to continue to bear those concerns, to continue with my work, as well as I can account for it with my conscience and for my conscience.
Every German, no matter who he may be, has a duty to ruthlessly oppose these elements, either arrest them immediately or, if they should somehow resist, to slay them with no further ado. The orders to all troops have been issued. They will be executed blindly, according to the obedience that the German army knows.
For me it is a special pleasure to greet you once again with joy, my old comrades-in-arms, that I was again granted the privilege of escaping a fate that did not hold terrible things for me, but that would have brought the horror for the German people.
I also see it as a hint from the Providence, that I have to continue my work and therefore I will continue it!