The first large theme that interested the diarists was hunger. Hunger remained a big issue among them despite the upcoming liberation. Mr. C.L.M. Kerkhoven, a 50-year-old professor from Voorburg, noticed this hunger standing in line at one of the soup kitchens. "To the I.K.B. kitchen at a quarter to eleven. If you are standing in line you will hear how much hardship there is, people look miserable but still have hope in their hearts that soon it will be over and that soon we will be freed."[2] Fie van Baaren, a 45-year-old housewife from Delft, described the hunger as follows: "It is hunger at home and I even ate the cat's food; my brother has lost so much weight that he can't walk any further than the garden and the kitchen. He can't work for a while; his legs and jaws are so skinny, it is a terrible sight. . . We are all so tired of the war, not even the food, but the pressure is so high. Here in Holland it is awful; we are slowly starving."[3] The hunger got so bad that by the time the food supplies were almost empty, Rudolf Jacob Lodewijk Simons, a 40-year-old Jewish man hiding in The Hague with a falsified identity card, noted the following: "It is a normal phenomenon, that you see people cry in shops or on the street because somebody has taken their place or because they forgot their coupons."[4] From the 66 diarists, 46 observed that either they or the people around them were starving. They lived off a minimum share and were dependent on soup kitchens or the help of the Red Cross. Hunger controlled society in this last month and caused major disappointment and despair among the diarists.
People struggled with other problems related to hunger. Heat sources were no longer available, and gas, water and electricity were shut down. Cooking and keeping food warm became problematic, just like heating the dwelling. "The last days of April were primarily cold. As a result of fuel scarcity we had already stopped heating the house. Only if food had to be cooked and the ´gas heater´ was in use – with paper, finely chopped wood and coals – the temperature would rise a bit in the living room,"[5] states 45-year-old J.S. Bartstra, a former professor who was active in the resistance. The absence of heat sources resulted in not only hunger, but also an increasing number of illnesses and deaths. This too in Leiden: "In the afternoon we unexpectedly received the death notice of the 19-year-old daughter of Van Wijngaarden, the director of the Museum of Antiquities, which affected us deeply because even though Kees didn't see W. at the museum for three days, he did not know of her illness. This is a huge loss for this family, especially because the mother is very malnourished."[6] Trudy Braat-Bertel, the 26-year-old wealthy housewife from Oegstgeest, realised that even affluent families were dying of starvation. Similarly wrote Han de Wilde, a 39-year-old from Leiden who was known for his mattress shop on the Breestraat: "It is like watching paint dry. The days flew by thanks to bakery inspections, digging, sowing and seeding in both my allotments, chopping wood and running errands (because cycling is highly dangerous; every day bicycles are being taken!), but life seemed dry, monotonous and hopeless."[7] The Dutch society weakened. People died of starvation and cold, people became weaker emotionally with every setback, and the days were endless.
It was cold inside the houses due to a lack of heat sources. Source:
Wikipedia/NIOD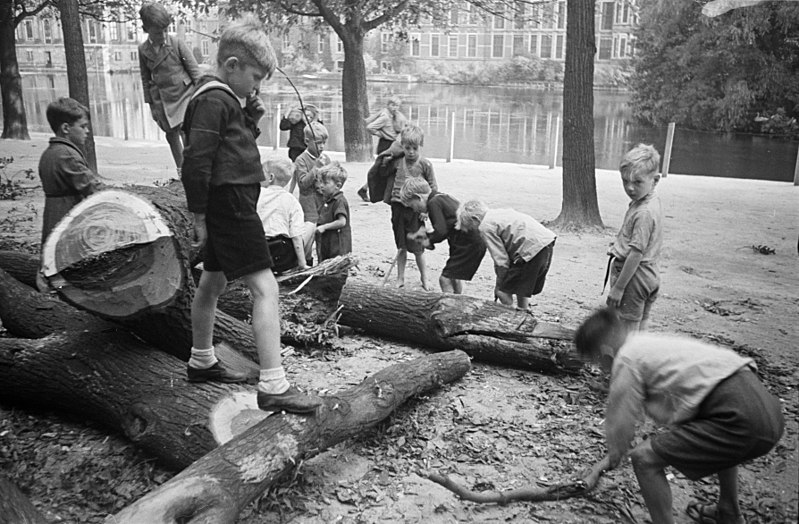 All available wood was collected. Even the trees around the Hofvijver didn't make it. Source:
Wikipedia/NIOD
Not everyone experienced this last month as desperate. There were families that possessed a reasonable food supply. Social relationships were also maintained. The family of Th. Witting, a 35-year-old stay-at-home dad from Ypenburg, celebrated Easter with a 'good' breakfast: "At half past seven, Mother, Jopie, Jantje and I went to the mass and took communion. Mother baked a cake. From the kitchen came beet soup. In the afternoon I played with the children and the Meccano box. Tonight we are eating porridge and soup."[8] Next to celebrating Easter, wedding anniversaries and birthdays, visiting each other and maintaining social relationships remained important. For example, Van Riemsdijk, the ex-marine from The Hague, wrote: "At two o' clock in the afternoon, music was made in the home of Dr. Keiholz, together with Betsy and Mrs. Grelinger. Afterwards there was a wonderful get-together with tasty things. Including an abundance of delicious apple fritters, buns filled with smoked mackerel, radish, etc. Then a dinner that was excellent for this period of time! Cod, potatoes, lettuce (everything in abundance), sprinkled with a delicious Hungarian wine; then meat (roast beef), potatoes with escarole."[9] J.M.G. Beelen, too, an 18-year-old schoolgirl from Haarlem, kept doing sports at least once per week despite the hunger: "I am going to play tennis! Rietje Bonarius can't go all of a sudden. Tonight I went to A. v.d. Ham and to L. Nieland. They both still go."[10] Next to tennis she still met with her friends occasionally. In total there were 13 diarists in the last war phase who had enough food thanks to supplies that were built up during the war. These people primarily came from wealthier circles and richer families.
From the above it can be seen that in this last month, people not only experienced hunger and cold but also moments of joy. The biggest joyful moment among the diarists this month took place on April 29th, when food drops took place. J.H. Kasten, a 65-year-old technical civil servant from Leiden, summarised this nicely: "In the afternoon there was great joy when heavy bombers dropped food for the people at the airport of Valkenburg. A big excited crowd watched from the roofs and chimneys of the houses and from the tracks. It was an impressive sight. The need was high, but thank God rescue was near. Every hour we hope that the redeeming word peace will resound over the lowlands."[11] Mia Boeree, a teenage girl from Leiden who spent most of her time outside with friends, also wrote about the food drops in her diary: "got coffee with real milk at home with a meal and what a gift from English airplanes, big heavy bombers, that nobody took seriously if the packets did not really fall down at the airports near Valkenburg. It was like Mad Tuesday, the people climbed on the roofs, waved their handkerchiefs, cheered and the pilots greeted us back. Everyone had the feeling, the war has now ended, because that is not possible in total time of war!"[12] What makes this last part so special is that Mia finds that the war has ended for her, even though the war would end a week later. Five diarists realised that such help from the Allies could not have taken place earlier.
A.F. Koenraads, a 40-year-old teacher from Delft, interpreted this armada of airplanes differently: "Sceptics wonder what they will see on the table from all that has been dropped. They were not entirely wrong. That not everyone profits from it, that is not the worst thing. The worst thing is that, with such a gift from the sky, we need to be kept alive. I can't shake the thought that the whole unleashed armada did not bring us one step closer to liberation, yes that they gave us food for a day at most.d I'd rather see paratroopers falling from the planes."[13] Also J.A. Ladan, a 30-year-old technical draughtsman from The Hague, noticed that the food drops were being criticised. "R.A.F. will drop packets of food. This subject is hotly debated! People call it madness."[14] They are the only diarists within the diary research who were negative about the food drops; the others were extremely excited. However, the food drops in Leiden and Haarlem didn't go as planned. The mattress seller Han de Wilde from Leiden noted that some people were very selfish: "Unfortunately some people from Katwijk could not keep their hands to themselves and decided to rob by stealing cans or opening them. They were caught, took a good beating, stood with a sign around their necks saying 'I am a thief'. Their names will be read out loud in church, which really means something to Katwijk people!"[15]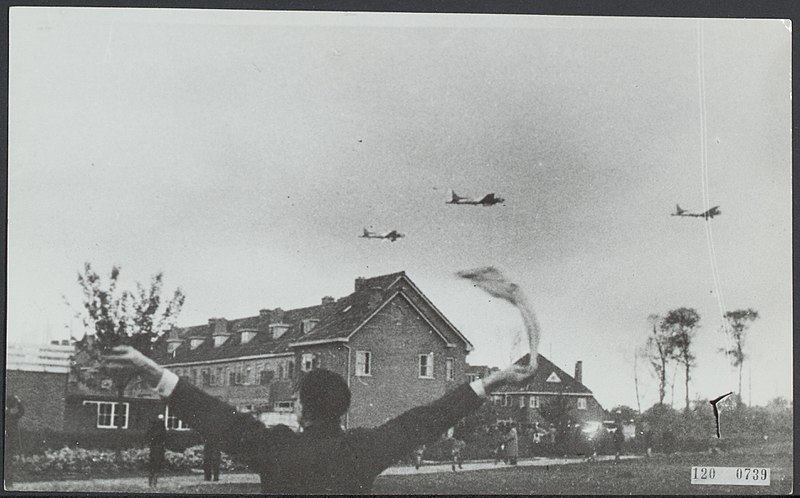 Food drops in April 1945. Source:
Wikipedia/Nationaal Archief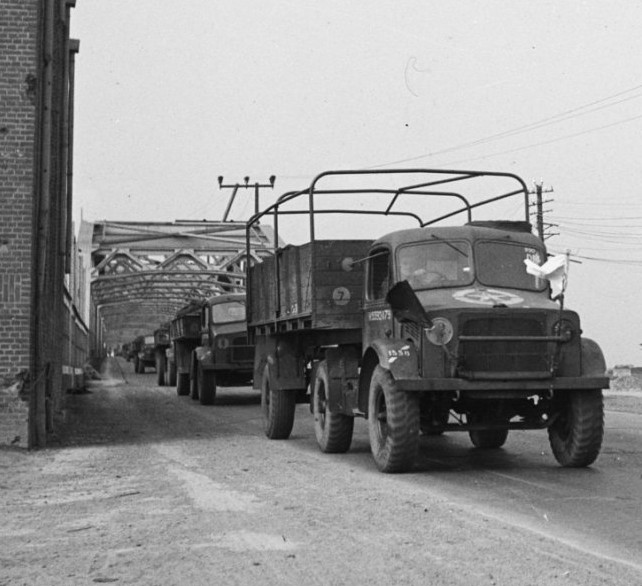 Food transport from Rhenen to Western-Netherlands. The army truck carries the white flag because the capitulation has not yet been signed. Source:
Wikipedia/Nationaal Archief