The website has become even bigger and better! WW2Awards.com has been fully merged with TracesOfWar.com. From now on, the sections Persons and Awards are available. Much more information in a larger jacket
Ordinul Mihai Viteazul
The Ordinul "Mihai Viteazul" (Order of Michael the Brave) was instituted by King Ferdinand I on 26th September 1916 and came in three classes.
The decoration was the highest Military decoration of Rumania. The name was chosen in Honour to Mihai Viteazul (Michael the Brave) a late 16th Century Prince of Wallachia (geographical region of Rumania).

It was designed in the form of a guilted, bronze Fleur-de-Lys cross with blue enameled arms. The ribbon was dark cherry-colored moiré with a golden stripe on each side. Between the cross and the ribbon a hollow crown is attached with a hook on a small ring.

The 1st Class was worn as a large, pin-back cross on the left breast, without the crown. The 2nd Class was worn as similar cross surmounted by a gold royal crown as a neck decoration. This class was sometimes referred to as Commander class. Finally the 3rd Class was similar, but worn as a smaller cross surmounted by a gold royal crown from a ribbon on the left breast and was sometimes referred to as Knight class.

Originally the 1916 version had on it the monogram of its founder King Ferdinand I and the date "1916" on the reverse. During The Second World War, the order featured the "M" and "1" monograms of King Michael I surmounted by a royal crown in the center of the cross and the date "1941" in the lower arm. On the revers there was the monogram of Ferdinand I in the center and the date "1916" on the lower arm. The addition of Swords was instituted on 8 October 1944 and the date "1944" was placed on the reverse of the order. The Ferdinand I monogram and the 1941 and 1916 dates were deleted. This was exactly at the time that Rumania switched sides from the Axes towards the Allied forces and coöperated with the Soviet military.

The order was to be awarded to officers only and to units. It was awarded during both the First and Second World Wars and was reïntituted in 1990 as the highest decoration for bravery.
Subonderscheidingen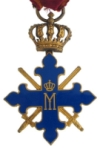 Sources
Photo: Wilco Vermeer

- Ichim E., Ordinul Militar de Razboi Mihai Viteazul, Modelism & Jertfa, 2000
- Wikipedia.nl