Austria (1955-Present, Republic)
After years of negotiations with the occupying nations, Austria gained its independence on May 15th, 1955. When all foreign troops had left the country on October 26th, 1955, Austria formally declared independence.
The country became an European Union member in 1995 and signed the Lisbon Treaty in 2007.
Orders
Medals for Merit and Bravery (Not Orders)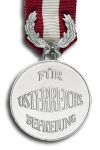 Long and Faithfull Service Medals
Highest Decorations