Mecklenburg-Schwerin (1815-1918, Grand Duchy)
At the Congress of Vienna in 1815, Mecklenburg-Schwerin was becoming a Grand Duchy when Frederik Frans I became Grand Duke.
Mecklenburg-Schwerin entered the German Union.
The Grand Duchy entered the German War in 1866 and its troops fought along side the Prussian forces which made the Grand Duchy become influenced by the Kingdom of Prussia. It entered with Prussia the North-German Union and the trade union. During the French-German war of 1870-1871, Mecklenburg-Schwerin again fought together with Prussia and Grand Duke Frederik Frans II supported the German unification and entered the German Empire in 1871.
When on February 23rd, 1918, Duke Adolf Frederik VI of Mecklenburg-Strelitz committed suicide, Grandduke Frederik Frans IV became regent of the duchy and when the family of Adolf Frederik accepted his rule, it seemed like Mecklenburg would become one Grand Duchy once again. However this was interrupted by the revolution that started on November 14th, 1918 after which the Grand Duke was forced to resign.
Mecklenburg-Schwerin became a revolutionary Freestate.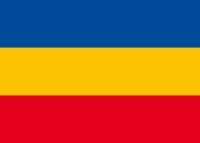 Medals for Merit and Bravery (Not Orders)
Orders