Tuva (1921-1941, Soviet Republic)
Tuva stands for Tuvanian Arat Republic; "arat" being Russian for "steppe shepherd". It was a small independent country lying between the USSR and the People's Republic of Mongolia. It gained independence in 1921 and joined the Soviet union in 1944.

As early as May 23rd 1943, Tuvanian volunteers joined World War Two on Soviet side. The first was a tankunit, trained by the Soviets. Later on, Tuva deployed regular troops including an infantry regiment and a cavalry unit.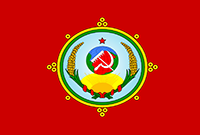 Orders
Medals for Merit and Bravery (Not Orders)