For a number of years I have been researching World War II in Helmond . One is always looking for new material that is not yet known in Helmond historiography. This could be anything; diaries, letters or photos.
In recent years, more and more diaries or memories of British soldiers have been published. Because Helmond was a rest center, many soldiers passed through Helmond. Many stayed temporarily with families in Helmond. Due to the enormous amount, which units exactly stayed in Helmond will unfortunately never become clear. I'm therefore always looking for new stories. You just cannot know in advance whether it contains anything about Helmond. Many books were bought where the writer should have been in Helmond in terms of unit, but had just been on leave to Brussels or was injured and send to a hospital. Fortunately, sometimes you get lucky. Like with Captain Gainsford's My War Diary. Gainsford's son published his father's diary several years ago.
Gainsford was part of the supply force of the 11th Armoured Division. As such, he regularly came to Helmond after the liberation. He occasionally took a photo with a roll that he bought in Helmond for 20 cigarettes. One of the photos was taken in Helmond: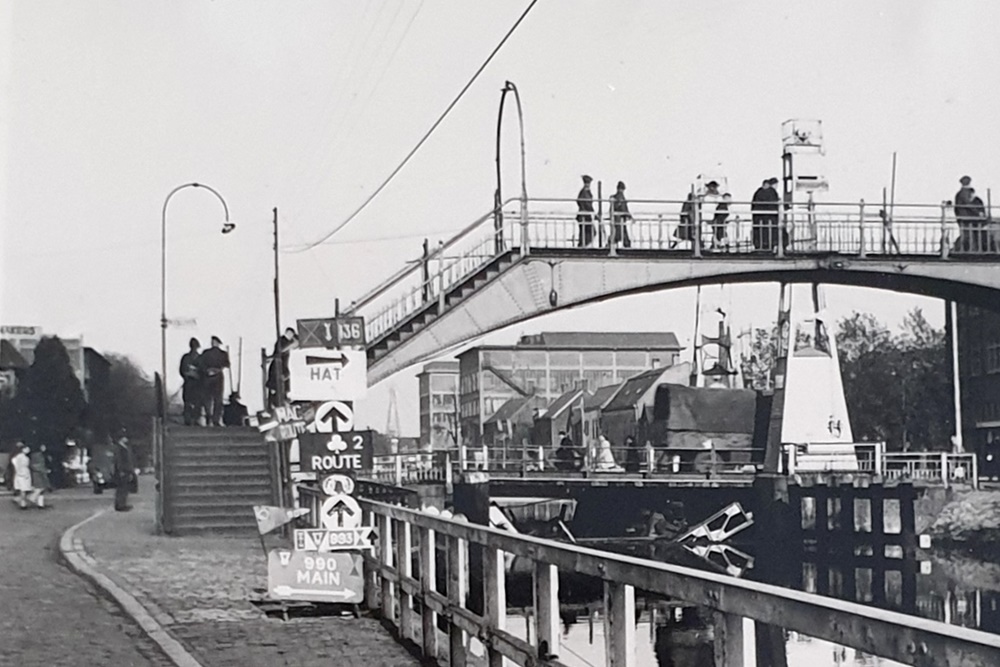 Veestraatbrug in Helmond, when the photo was taken exactly is unknown. Source: Tim Gainsford.
It is not entirely clear when this photo of the Veestraatbrug was taken. Interestingly, there is already a new bridge on top of the old remains of the blown up bridge. The British had built a temporary Bailey bridge over the canal behind this bridge. That one has already been removed, or is hidden from view. The pedestrian bridge in the foreground survived the entire war.
What is especially interesting are the signs at the bridge. Hat and Club are two supply routes, but the other signs are for units in and around the city. On the bottom two are a number of marks, namely a bull's head in a triangle, this refers to the 79th Armored Division. Also, two (green) triangles on top of each other, referring to the division's 31st Tank Brigade and two numbers; 990 and 993. The first refers to the headquarters of the 31st Tank Brigade. The second to the 141st Regiment Royal Armored Corps, which had its headquarters at Aarle-Rixtel. This suggests that the photo was taken in October 1944. At the top another sign with 136, this refers to the Ordnance Field Park of the 31st Tank Brigade.
In the background we see a part of the Raymakers textile factory on the left and the Diddens en van Asten on the right. The photo provides a nice snapshot of the war in Helmond.
Do you still have letters, diaries, photos or other documents that remind you of the Helmond wartime? Then please
contact
with us!
My War Diary

From Normandy into Hitler's Reich
ISBN: 9781503388925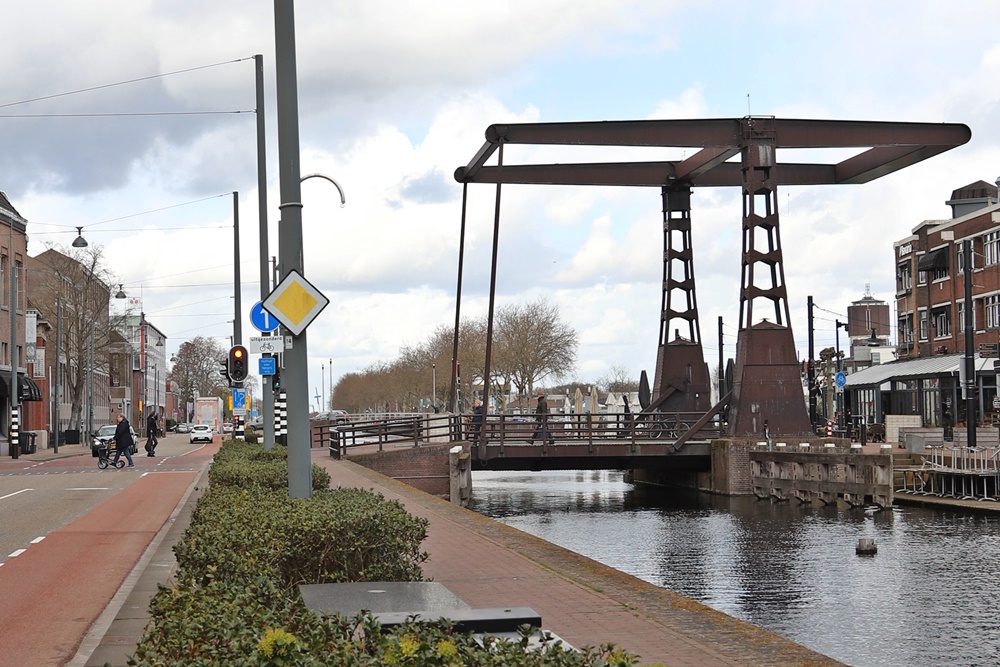 The current Veestraatbrug in Helmond. Source: Jeroen Koppes.