Basil J. Gillis, known as missing in action, but once buried?After the Battle for Tarawa, Jay M. Johnson was responsible for setting up a weather station for the pilots using the island to help with navigation. He was also an avid amateur photographer and took photos on the island. From his son Andy Johnson, the editorial board of WW2Awards received a photo of a number of graves on Tarawa.
One of the graves bears the name of
Basil J. Gillis
, who is reported as missing in action and is mentioned on the Tablets of the Missing at the
National Memorial Cemetery of the Pacific
.
Other sources mention his remains were transferred to the Cowles Memorial Cemetery in Ipswich, Massachusetts. Unknown is then why his name was added to the Tablets of the Missing. Unclear is if the grave in Ipswich is his actual grave or an empty memorial grave.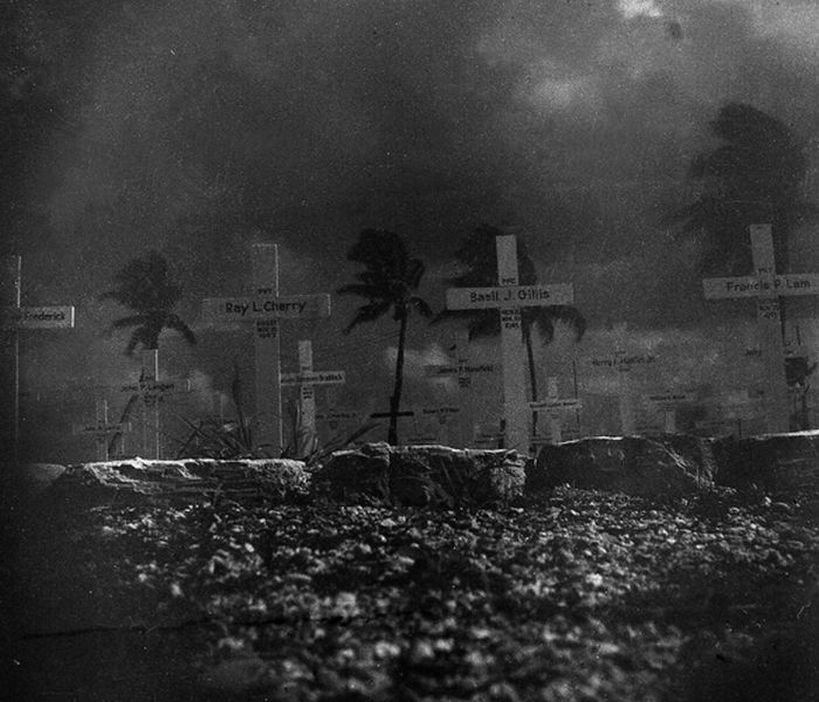 The grave of Basil J. Gillis between the graves of Ray L. Cherry and Francis P. Lam at Tarawa.
Off course, as WW2Awards we woul very much like to know more about this history. WHen you as a visitor can help us with this, please contact us through the input on WW2Awards.
Update (June 8th, 2013):
We received the following reaction, coming from Jim Hildebrand (http://tarawa1943.com/):
Cited:
What you have is a photograph of the MEMORIAL crosses placed in Cemetery 11, some time after the battle.
This was a memorial cemetery that was constructed by the Navy -- on top of an original burial site.
The crosses DEFINITELY do not reflect the location of any real graves, and for the most part not even the names of the men actually buried in that general area.
Your photo was taken from the opposite end, looking west from about where you see the men standing in front of the chapel.
This cemetery no longer exists (since 1946), but was located not far from the "bird's beak" at the northwest corner of the island.
An yet this history keeps in our minds. According to Follow Me, the Quarterly Magazine of the Second Marine Division Association, Volume XLVII, No 4:
Cited:
near Green Beach, (upper right) that after reconstruction became Cemetery 11 ......... 167 Marines were listed as buried there and only 34 were recovered after the war.