TracesOfWar employee Wijnand de Gelder recently reviewed the book The Boy With Only One Shoe by RAF veteran John Henry Meller (1924). In his early youth, at the age of three, the writer was severely burned with third-degree burns by boiling water. Here, according to his own words, he had a near-death experience: he saw a glowing light and a staircase far into the clouds. As he climbed and climbed he saw a kind of angel in a gate. He didn't want to let him enter heaven: "You can't come in - because you only have one shoe!"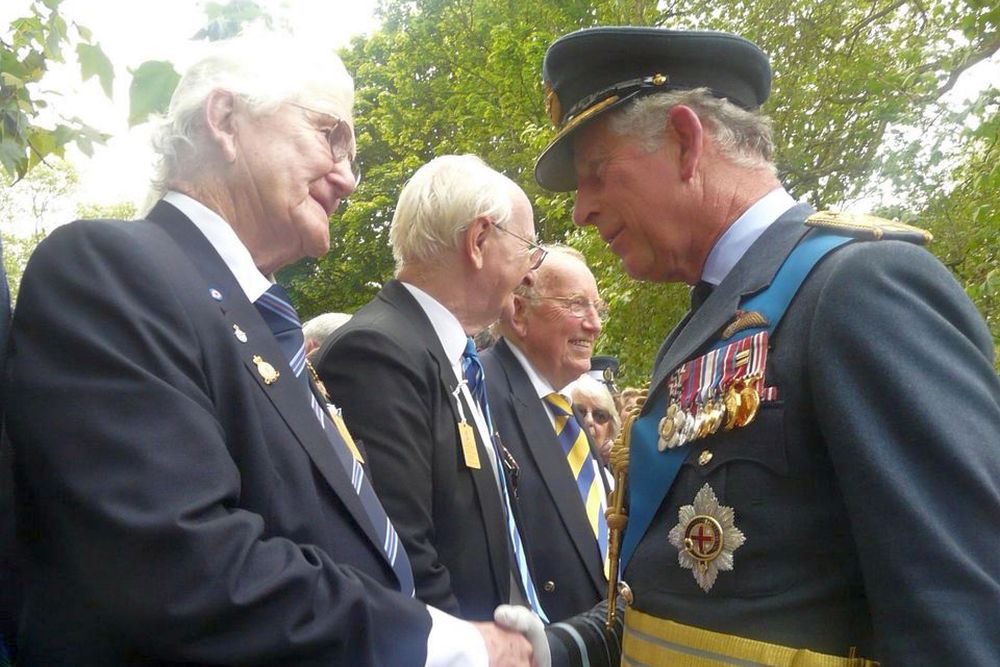 RAF veteran John Henry Meller with prince Charles.
Your book is currently only published in England. Do you also have ambitions to release it in other countries?
It is available in other countries through Amazon and IngramSpark publishing but it is currently only available in English. I would love to find a co-authors to translate it into other languages.
Writing this book full of personal stories will have taken a long time. How long did it take to complete this book? From the idea to the publication of the 1st edition?
I started writing it 15 years ago and finished the outline of it after 2 years, but then it remained in a box on a shelf until my daughter got it out last year and worked with me to complete it, which took us a further year to do.
How is the response to your book? There was a storm on social media? Is a second edition already required?
The book is selling well and we are getting a wonderful response with a 5 star rating on Amazon with over 60 reviews. We receive numerous emails every day with wonderful comments. Amazon and IngramSpark both print on demand so there is a constant ready supply of books available. We keep several boxes at home for those who would like a signed copy.
Do you still have contact with the persons described in the book themselves, with their family or with other contact persons?
I had lost contact with all my crew and their families and sadly I am now the last remaining, but I put out a plea on social media and did manage to trace the family of my best friend Peter Potter (who was our rear gunner). I sent his family copies of my book and we have stayed in touch.
Is there an event or a person described in this book with a special significance to you?
The most significant event was meeting my wife Barbara and also being invited to attend the unveiling of the Bomber Command memorial in Green Park London in 2012 with my family.
You are now working on a new book. Can you tell something about it (do you want to lift a tip of the veil)? Of course we hope to read and review that book again.
I have the notes completed for my next book and Caroline and I are currently working our way through them. It will be called
On The Beat With Only One Shoe
.
You write at the end that you have never found the other shoe, but you thank the Lord for your life so far. You hope once to see your dead comrades in arms again. How strong is your faith and what has it meant in your life?
I do have a strong faith which helped me cope throughout the war and there after. This faith is also shared with my wife, my daughter and her family.
Finally, is there anything else you would like to share? A wisdom, an anecdote or experience that is not in the book.
One of the Lancasters I flew in had the nose art of a crucifix painted over a swastika with the words Right Over Might. I have always remembered that.