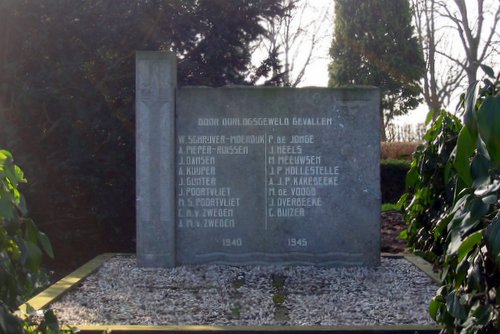 The war memorial is located at the General Cemetery at Krabbendijke (Reimerswaal).

The text on the war memorial reads:
'Killed during the war
W. Writer-Moerdijk | P. De Jong
A. Pieper-Ruissen | J. Neels
J. Dance | M. Meeuwsen
A. Kuijper | J.P. Hollestelle
J. Gunter | A.J.P. Kaliebeeke
J. Poortvliet | M. De Voogd
M.S. Poortvliet | J. Overbeeke
C.H. V. Sweden | C. Buizer
A.M. V. Sweden

1940 1945"
Do you have more information about this location? Inform us!
Source
Text: Mia van den Berg
Photos: Mia van den Berg