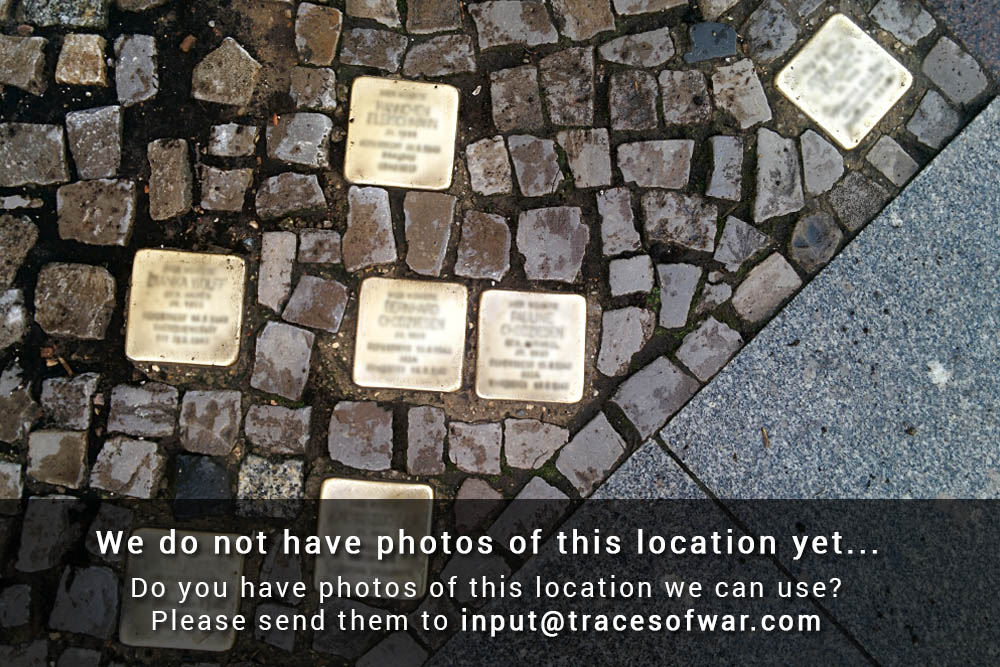 These memorial stones (Stolpersteine or stumbling stones) commemorate:
* Gustav Fleischhacker, born 1907, deported 1942 to the east, murdered.
* Werner Samson Fleischhacker, born 1936, deported 1942 to the east, murdered
* Johanna Fleischhacker née Fuchs, born 1911, deported 1942 to the east, murdered.

Gustav Fleischhacker, a butcher, his wife Johanna Fuchs Fleischhacker, and their 6-year-old son, Werner Samson Fleischhacker, were deported on 25 March 1942 to Piaski Ghetto and murdered shortly afterwards.

Gustav's parents and his only brother were all murdered in Auschwitz at different times. Father Julius Fleischhacker (b. 1880) was murdered there in August 1942; brother Emil (b. 1910) was murdered a month later; and mother Selma Fleischhacker (b. 1886) was murdered there in August of the following year.

Johanna's father died in 1941, and her mother, Friedericke Fuchs, moved to live with Johanna's family. But she was taken to a Jewish retirement home at Eschollbrückerstraße 4½, from where she was deported on 27 September 1942 to Theresienstadt. She was murdered in Auschwitz.

Johanna had two sisters, Bertha and Friedel. Bertha Keller had converted to Catholicism but was deported to Auschwitz in 1942. Her husband and two children remained in Dieburg. Another sister, Friedel Heumann, emigrated to Holland in 1933. She married Erich Heumann there in 1941. The following year, they were deported from Westerbork camp to Auschwitz. Erich, who had an amputated leg, was killed immediately. Friedel survived medical experiments by the SS "doctor" Mengele and then survived a death march from Auschwitz to Ravensbrück, where she was liberated. She emigrated to Israel, where she lived to be 88 years old. Erich Heumann's stolperstein is in Gouda, at [towid]32211,Sophiastraat 47[/towid.

"Stolpersteine" is an art project for Europe by Gunter Demnig to commemorate victims of National Socialism (Nazism). Stolpersteine (stumbling stones) are small, 10x10cm brass plaques placed in the pavement in front of the last voluntary residence of (mostly Jewish) victims who were murdered by the Nazis. Each plaque is engraved with the victim's name, date of birth, and place (mostly a concentration camp) and date of death. By doing this, Gunter Demnig gives an individual memorial to each victim. One stone, one name, one person. He cites the Talmud: "A human being is forgotten only when his or her name is forgotten."
Do you have more information about this location? Inform us!
Source
Text: Fedor de Vries & Anne Palmer
Photos: TracesOfWar.com
YV, geni.com