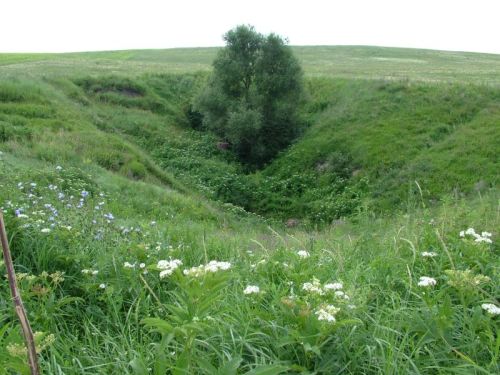 On this site a sinkhole is situated which contains an opening that gives entrance to an underground gypsum cave, named Ozerna. In popular language the cave is known as Popowa Yama, meaning Priest Grotto. The entrance of the underground labyrinth, which with a length of 124 kilometres is the fifteenth largest in the world, used to be on the land of a local priest.

During World War Two 38 Jews were hidden in the cave, including a two year old boy and a 75 year old grandmother. Throughout the period 1943-1944 they stayed for 344 days in Priest Grotto. At least 19 of them survived the war in here and could leave the cave finally on 12 April 1944 after the arrival of the Red Army.

The cave is difficult accessible and is mostly visited by experienced speleologist.
Do you have more information about this location? Inform us!
Source
Related books