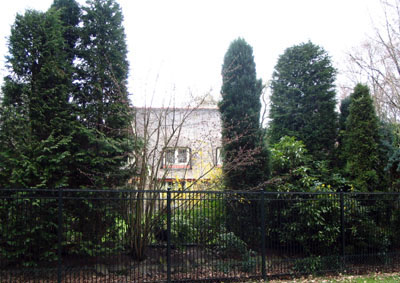 "De Brem" House is situated at number 3 Hoofdlaan in Oosterbeek. This is at the crossroads with the Van Lennepweg. During the fighting in Oosterbeek in September 1944 in this country house the so called Regimental Aid Post was established. During the battle, that raged for a week and which made many victims under the British troops, it was decided on September 21st to use this country house as an emergency first aid station.

The building found itself in the middle of the front line and was continually fired at. This also hit Chaplain Father Benson, who was placed at the disposal of the 181st Airlanding Ambulance. He was wounded by the mortar fire in the immediate surroundings of the house.

The Regimental Aid Post was under command by Captain Douglas Swinscow of the Reconnaissance Squadron. Only a fraction of the required medicines and necessary materials was available to him and he tried, with the little means he had, to help the wounded as well as he could. Though, at a certain moment, he tried to obtain some more material at the "Gelders Hof" House next door. When he tried to cross over he was knocked out by the percussion of a detonating grenade. As a result he was out for a few hours.

During the course of the battle, the pressure on the perimeter became stronger and stronger. This resulted in the fact that "De Brem" House was under fire. At a given moment a grenade landed on the roof but the explosion was absorbed by the thatched roof. Surprisingly enough the house did not catch fire at that time.

During some research on August 19, 1994, two field graves were uncovered. The remains of two stretchers with two paratrooper's helmets and some splint material were found. The exact location where those two stretchers were dug up was in front of the sun-lounge on the left side of the house.

Pleas note: This house is a private property and is not open to visitors.
Do you have more information about this location? Inform us!
Source
Text: Jeroen Niels
Photos: Jeroen Niels
Related books