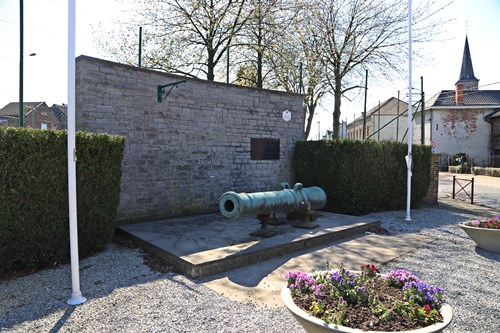 This is a memorial for the 200th birthday of Napoleon, erected in 1969. The canon weighs 5,600 pounds (2540 kilos) and is 4,20 metres long. It was cast on 14 September 1811 in Doornik and served at the fortress of Antwerp, where it was used against the French army. The piece originates from the collection of the Hallepoort museum in Brussels.

Text on the monument:

"LA LÉGION D'HONNEUR
EN HOMMAGE À L'ŒUVRE
CIVILE ET MILITAIRE
DE
NAPOLÉON
1769-1969"

"LA LÉGION D'HONNEUR
IN HONOUR OF THE
CIVIL AND MILITARY OEUVRE
OF
NAPOLÉON
1769-1969"
Do you have more information about this location? Inform us!
Source