I Was There! - Though Neutral, the Nazis Torpedoed Us
The War Illustrated, Volume 2, No. 22, Page 62, February 2, 1940.
Despite protests by her captain that he was not carrying contraband, the 8,000-ton Dutch freighter "Arendskerk" was sunk by a German U-boat in the Bay of Biscay on January 15. The captain's story is here reproduced by permission of Reuters.
The story of the sinking of the "Arendskerk" was told by the ship's captain when he was landed at Lisbon with his crew by a Dutch steamer.
"We were bound for Capetown and Durban with a general cargo", he said. "We had just passed Ushant when we saw far ahead a small spot on the horizon. Suddenly a shower of bullets dropped round the ship; the small spot was a submarine.
"Firing continually while it was getting nearer, the submarine ordered me to stop. I obeyed, but the shooting continued.
"My first officer took the ship's papers to the Germans, and the captain said he was very sorry but he would have to sink the ship as the cargo was contraband because its destination, South Africa, was an enemy country.
"He said he considered it contraband because it was destined for the enemy.
"My boat was carrying only a general cargo; there was no contraband.
"The German captain also declared that it was really a pity to sink such a good ship – it was only a year old – but he had to do his duty.
"The submarine towed the first officer's boat back and gave the crew half an hour to leave. Later we saw the whole deck, masts and cargo of our ship blown up."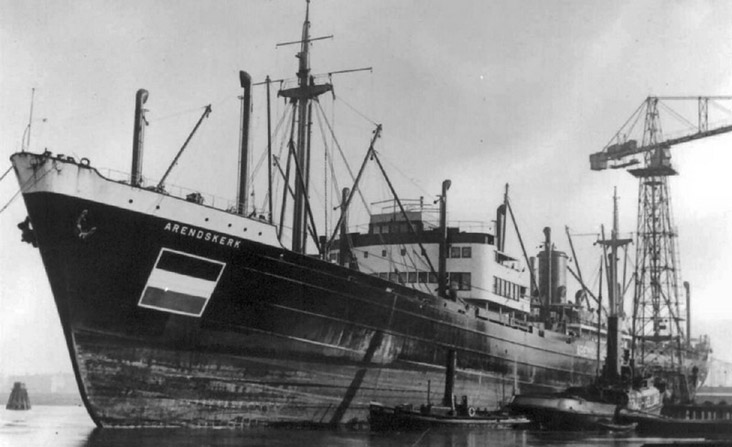 The Dutch motor ship, whose tragic story is told by the captain in this page, is here seen lying in port. She belonged to the United Dutch Shipping Company and had no passengers, but was a freighter, pure and simple, carrying a mixed cargo to South Africa. Photo, Central Press.