Introduction
From the Leidsch Dagblad of 13 September 2003: "She was stunning, smart and sporty. She could shoot, sabotage and spy. Like a Hannie Schaft from Leiden she dove right into the resistance, was arrested and sentenced to death. But then her life took a bizarre turn. She offered her expertise to the Sicherheitsdienst."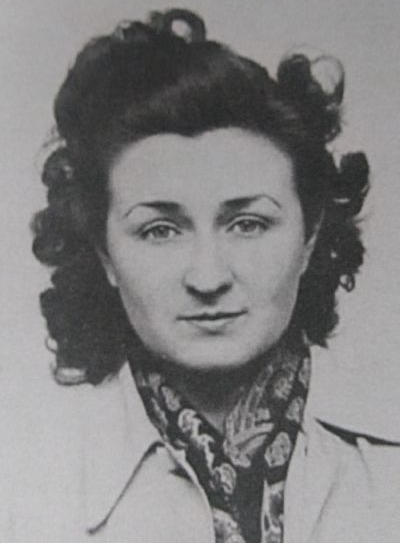 Helene Louise ten Cate Brouwer, member of the resistance first and informant for the German
Sicherheitsdienst
later. Source: Jochem Botman
Helene Lousie Ten Cate Brouwer was born in Alphen aan de Rijn. She came from a decent and prominent protestant family. Her father, Dirk ten Cate Brouwer, was the director of "Het Tegelhuis", a trade company in the field of wall tiles and floor tiles. He was a well-regarded gentleman, who held multiple positions in his career; chairman of the Rijnland Chamber of Commerce and of the Wilhelmina Vereniging in Alphen, a commission that annually organised the Queen's birthday. His wife, Helene ten Cate, gave him four children, Helene Louise (27 October 1914), sons Dick (09 February 1916) and Willem Barent (28 November 1917) and the youngest daughter, Lotte Marianne (21 October 1923). The family lived at 36 Wilhelminastraat in Alphen aan de Rijn since the beginning of the First World War in 1914. In 1933 the family moved to 2 Wassenaarseweg in Leiden. In the Interbellum the father did business in Germany and sympathised with the Nazi regime, up until the German invasion of the Netherlands.
Career
Helene Louise wanted to see more of the world. In April of 1939 she responded to an advertisement placed by businessman W.A.Th. Gerth van Wijk who was looking for a secretary with knowledge of languages that would accompany him on a business trip to the South of France and Spain. Gerth van Wijk presented himself as a member of the Dutch consular services with an extensive network of contacts around the world. He made a good impression with the status of his father as a lieutenant colonel in the KNIL, Gerth van Wijk, and his diplomatic connections included members of government and the royal house. Father Ten Cate Brouwer was very pleased with this prominent young man and gave his daughter permission to join him. Gerth van Wijk told her that he would go on a business trip to Spain, New York and South America and her assistance during that trip would be very useful to him. First, they would stop by Spain. He would close a couple of business deals for the Dutch government in Franco's Spain.
Helene Louise travelled with him in March 1939 to Saint-Jean-de-Luz in the utmost southwest of France in which both shared a room in the Golf Hotel. Gerth van Wijk waited there for an entry visa for Spain while wasting his money on women, gambling and in bars. This went so far that he got into money trouble, leaving Helene Louise as "down payment". He would try to come up with some money in Switzerland or the Netherlands to pay off his debts and continue his trade mission. The request for Helene Louise's entry visa was declined. The relationship between the both of them wasn't very good, which resulted in the decision that Helene Louise would return to Leiden. There, she worked as a secretary for her father until the end of September, 1941.
Gerth van Wijk
Gerth van Wijk returned to the Netherlands without accomplishing anything as well. He was mobilised and joined his battalion in Hoorn, then Enkhuizen, then Medemblik. After the Germans won he left in September 1940, once again for Spain. In the Spanish capital Gerth van Wijk was recruited by the SD as a V-mann, an informant. His mission was to reach England through Portugal to work as a diplomatic courier for the Netherlands between London, Madrid and Lisbon. Via this line he would send information through diplomatic post to a contact address of the SD office in Madrid.
In December 1940 Gerth van Wijk attempted to reach Great Britain. He applied for a visa at the British Passport Control Office. For the reason for his application he stated that, on behalf of the Dutch government, he wanted to negotiate with the Spanish government about freeing up frozen credit that Dutch firms had. The request was approved by the Dutch chargé d'affaires, Van Pallandt. During the verification process the Dutch government in exile started suspecting that Gerth van Wijk was freeing the credit on behalf of the Germans. Gerth van Wijk was then thoroughly interrogated by the British counterintelligence service to which he eventually confessed that he was working for the SD.
Resistance
After the German invasion Helene Louise joined the resistance. The leader of the group of illegals in Leiden was a math teacher, captain Derk van Lingen, from Oegstgeest. Other members were captain De Bruyn from Leiden, her lover at the time Klaas den Dikken from Bodegraven and a second lieutenant who lived in Katwijk and was in contact with the organisation concerning the illegal magazine Vrij Nederland. The group collected military intelligence on airports, troop concentration and harbours.
Helene Louise made drawings of military airport Valkenburg near Leiden. These were to be sent to Kloos Planjer in The Hague. However, the SD was closing in on them. Both Den Dikken as well as Planjer were arrested by police commissioner Hofman a month before Helene, in September 1941. Planjer was taken in 'Schutzhaft' north of Berlin, in concentration camp Oranienburg while Den Dikken was taken away to concentration camp Neuengamme. He died there on January 20th, 1943. It remains unknown who betrayed the group.
In 1941, on the 25th of September, Helene Louise was arrested. Not by Hofman, but by Johnny van Ligten, also known as Lahr. An SD man she would meet again three years later.
Arrest
After being arrested, Helene Louise was taken to the Oranjehotel in Scheveningen to be interrogated by Lahr. At first, she refused to talk and was put in solitary confinement (Einzelhaft). On the 2nd of November, 1941 she had to stand trial in criminal court in Amsterdam. There, she was sentenced to death for spying on behalf of the enemy by Obergerichtsrat dr. Metz.
In January 1942 she wrote a letter to criminal court in which she declared that regarding the developments at the Eastern Front her political ideas had taken a turn and that she would like to offer her services to the German secret service. As a response to her letter she was brought before dr. Metz again for an interview and then brought back to the cells in Scheveningen.
Most likely as a consequence of her letter, her sentence was altered to 10 years forced labour on April 21st 1942. On the 1st of May 1942 she was transported to Amsterdam and from there via Düsseldorf-Dehrendorf to Anrath, a town between Duisburg and Mönchengladbach. After three weeks imprisonment there she was placed with the Kommando Lingen-Krefeld (presumably an Arbeitslager).
On the 1st of December 1942 she heard that she would be let go. She left to Leiden immediately. Her freedom, though, came at a price. She became a V-Frau, a spy and an informant. Because of unclear reasons she was under the supervision of Kriminalrat Schreider and its chef Befehlshaber der Sicherheitspolizei und des SD, dr. Wilhelm Harster for four months.
Spying career
In August 1943, half a year after she returned to the Netherlands, she was accepted into the spy/secret agent training programme in German service at the so called Agenten Schule West, which was called Seehof. The facility was situated at the Park Zorgvliet estate in The Hague, there she learned how to shoot, signal, sabotage, and ride a horse. She ran into a familiar face from Alphen aan de Rijn, J.J.B. (Hans) Sprey who turned out to be the commanding officer for the programme. Sprey worked his way up to SS-Hauptsturmfürher and head of spy facility Seehof. Helene Louise was trained at Seehof, as well as on the Oxerhof (Kühof) (Deventer) estate to telegraphist.
Going to Rome with Kappler
On the 3rd of August 1943 Helene Louise received a passport with the name Anneke van Tuyll. Then, on the 14th of September she received a visa for Germany and on the 23rd of September that same year she received one for Italy, from the consul in Vienna. Passports with fake names were only distributed by the occupier to persons who had proven subservient to the Nazi regime, like V-männer, V-Frauen and secret agents.
The pass was issued to an alias. She would be operating under at least three aliases: De Bruyn, Anneke van Tuyll or Gerda Hoffmann. In her laissez passer (licence), signed by Befehlshaber der Sicherheitspolizei und des SD Herbert Kappler in Rome stated: "Frl. Anneke van Tuyl is employed by the Sicherheitspolizei and the SD."
Helene Louise left the Netherlands on the 23rd of October 1943. She stayed in Berlin for three or four days, in Hotel Kaiser, under her alias De Bruyn. She already knew Kappler who was there preparing for his trip to Italy. Helene Louise was already accompanied by Kappler's adjutant Bohm. And so he picked her up from telegrapher centre Havelinstituut in Wannsee, where she was further trained as a telegrapher.
On the 2nd or 3rd of November 1943, Helene Louise arrived in Verona by train, together with w/t expert (wireless transmitter) and telegrapher Bohm and they found accommodation together at an inn named Albergo Colombo d'Oro which was requisitioned by the local SS staff. She stayed in Verona for three weeks. The SD office there was established in the most prominent building in the city, the Scala. The Funkstelle was on the top floor. The Befehlshaber der Sicherheitspolizei und des SD for all of Italy, Dr. Wilhelm Harster was housed in the SD headquarters as well.
Helene and Bohm left from Verona to Rome, where Helene worked as a secretary for Herbert Kappler at his office. She typed out messages that came in from the telex and code machines.
For Helene Louise, Rome was a world of glamour. She became Kappler's lover and was thoroughly impressed by the superiority of the Gestapo, the German war machine, the power and wealth at her feet. She lead a luxurious life and was popular with her German colleagues.
With the upcoming allied landing on the Italian mainland this life changed. The partisans increased their actions and the pressure went up. Helene Louise had to contribute to turn the tide. She was asked for an idiotic project. She was instructed by Kappler to release infected rats on the beach of Anzio in case of an allied landing being successful there. Basically, this meant biological warfare as a last resort to halt an allied advance. This project, however, was never executed.
Detention 1944
With the allies advancing, Kappler left Rome leaving Helene Louise behind as a stay behind-agent. She had to send intelligence of military and political nature from the liberated area to her superiors. After Rome was liberated Louise voluntarily turned herself in to the allies on June 6th 1944. But it was just a cover. She was left behind as a part of the Informations-Netz, which was a network of telegraphers who would send messages to the German military from behind enemy lines. First, she had to gain the allies' counterintelligence's trust. Once she'd gained that she'd offer her services as a double agent to defeat the Nazi's. Then, she would send messages concerning allied troop movements to the German military intelligence through a hidden channel. There were numerous other defectors who played the same trick. Helene Louise wouldn't have stood out.
And indeed, Helene Louise offered her services and stated entirely truthfully that she had been working for the Germans and that she was trained as a "Funkerin (telegrapher). She was also honest about how "her original cover would be that of a governess with a family in Rome. If she would be captured she would be left to her own devices. Her mission was to pass on political and military information". Her statement was partially true and partially fabricated.
The British counterintelligence employed defectors on a regular basis. As translators, as 'sources', as interrogators or to mislead German intelligence by passing on controlled messages. Helene Louise would reactivate her channel somewhere around the end of August or beginning of September 1944.
Should her channel not function or be seized, she would be left to use secret writing. She had several bags with "medicines" in her possession which were also used for secret writing. When those medicines were introduced to water they dissolved and could be used as "ink" to send secret messages between visible correspondence. The "hidden" text would become visible after holding the letter against light or warming it up.
She received British instructions to keep the message traffic between her and her former SD superiors intact. Louise made mistakes causing her to lose the British secret service's trust. Just like during the Englandspiel there was a warning system built into the message traffic which gave a warning as soon as an agent had fallen into the enemy's hands. Helene Louise also had such warnings to secretly pass on the information that she had fallen into the allies' hand. These so called mistakes that Helene Louise sent in her messages were noticed by British counterintelligence since they were very alert in this regard.
De verklaringen van Helene Louise nadien voor haar fouten, wekten in september 1944 dusdanig argwaan op dat ze naar Engeland overgevlogen zou worden voor een diepgaand verhoor. Ze zou zeker niet ingezet worden als double cross agent (een agente die ingezet wordt tegen haar oude meesters) om diverse redenen: te labiel, onbetrouwbaar en de Duitse contraspionagedienst wist dat ze in geallieerde handen was. Maakte Helene Louise opzettelijk haar fouten? Een van de instructeurs op Seehof/Zorgvliet verklaarde dat een van de beste leerlingen "De Bruyn" was.
The explanations Helene Louise had afterwards for her mistakes were cause for suspicion in September 1944 to the extent that she was flown over to England to be thoroughly interrogated. She would absolutely not be employed as a double cross agent (an agent that would be employed against her old masters) for several reasons: too unstable, unreliable and the German counterintelligence knew that she had fallen into allied hands. Did Helen Louise make those mistakes intentionally? One of the instructors at Seehof/Zorgvliet stated that "De Bruyn" was one of their best students.
Interrogation and going to London
Helene Louise was completely examined. Her knowledge about the SD apparatus as well as her person were researched and studied in detail. She was also submitted to psychological research. This showed that Helene Louise was still impressed by her former superior Kappler and the Nazi regime and that, on top of that, she had an unstable personality. At the slightest opportunity she would run back to the Germans. Since the war was still in full swing the British service decided to bring her over to England for further interrogation.
On the 24th of November 1944 Helene Louise was interrogated in Holloway prison (London). There she stated that she was trained to be a telegrapher, to use hand guns and operate all kinds of motorised vehicles. She stated that she hadn't had any training in sabotage even though these trainings were taking place at the facility (Seehof).
Returning to the Netherlands
On the 4th of August 1945, Helene was flown from Croydon (UK) to The Hague. In the Netherlands she was received by the Politieke Recherche (an institution that investigates 'wrong elements' in Dutch society during the German occupation). Her activities in the war were investigated by investigators again. She was arrested and eventually let go due to lack of evidence. In August 1945 Helene Louise was awarded proof of good behaviour by the Bureau of National Security then (the earliest predecessor of the current AIVD (the General Intelligence and Security Service). She was free to go.
On the 27th of February 1947 Helene Louise Ten Cate Brouwer got definitively released from prosecution due to lack of evidence. She moved to Alphen a/d Rijn, to 6 Wilhelminalaan. Her father had been living in Alphen again since 1942. She didn't stay there for long, however, via Hilversum (2x Eikelaan), Amsterdam (Honthorststraat), The Hague she eventually ended up in Wassenaar. Until the end of the sixties everyone had forgotten about Helene Louise until it turned out there would be a Television series about her as an individua.
Television series and death
On the 26th of November 1962 Helene Louise ten Cate Brouwer filed a preliminary injunction against the KRO (Dutch TV station). Helene Louise, who was working as a housekeeper at the time, objected to the airing of a television series about spy stories, specifically those of "Louise", by Oreste Pinto who died in 1961. Pinto was a former lover of hers in London and worked counterintelligence there for the British secret service. She objected to the broadcasting because it "it was unnecessary to portray her as a sexually charged woman."
On the 5th of December 1962 the verdict came for the preliminary injunction against the KRO. Helene Louise won and the KRO wasn't allowed to air it. After that she disappeared into anonymity. On the 2nd of December 1986 Helen Louise ten Cate Brouwer died in Wassenaar.