Only a short time to go and we will be heralding a new year. As usual, we take a short bird's eye view on the past year.
2017 has been a year of major changes for STIWOT. The websites WW2Awards.com and WO2Actueel.nl were merged into TracesOfWar.com. The contents of Go2War2.nl will also be moved to that location shortly. All of our websites in plain view on a single location will create more interaction between the various elements. For instance, the article on the Ardennes offensive will give you direct access to all relevant points of interest and military personnel decorated during this battle. Henceforth, the visitor looking for information does not have to navigate from one website to the other anymore but will find everything he needs on TracesOfWar.com.
Although World War Two will remain the focal point, TracesOfWar offers information on other wars as well. In the past years many thousands of points of interest of other wars have been added and now, it will also be possible to add decorations of other wars to persons who have been decorated during WW2. More additions depend on what we can cope with as a team. Volunteers are indispensible for this. Are you interested to contribute to our website? Send an e-mail to info@stiwot.nl for more information.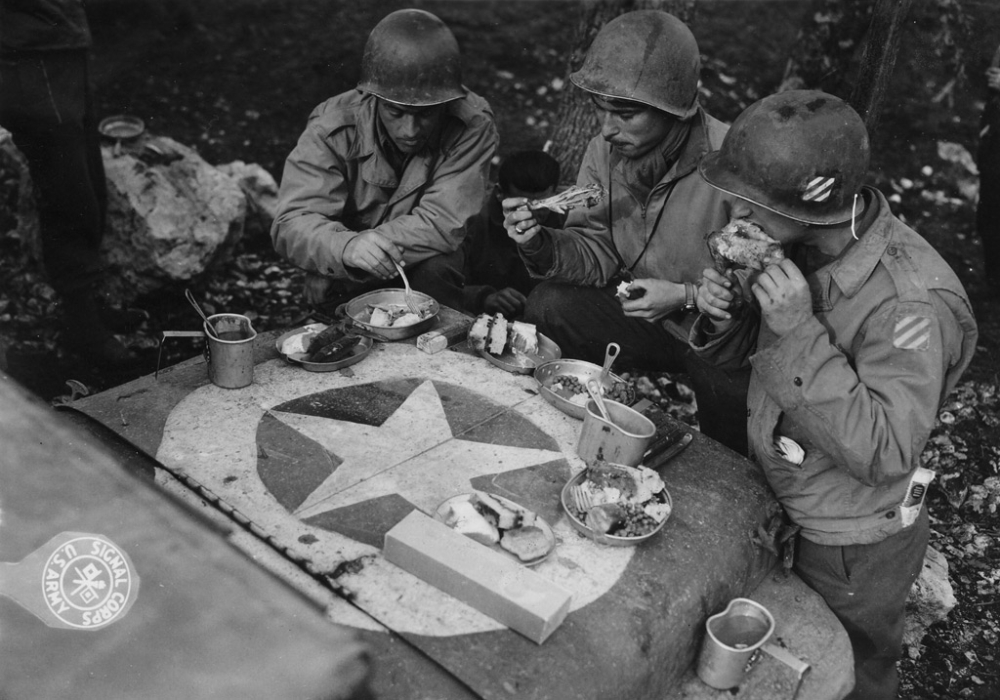 Christmas 1943, probably somewhere in Italy. Three American GI's enjoying their Christmas dinner, "served" on the hood of a vehicle.The soldier on the right is of the 3rd Infantry Division, the other two of the 163rd Signal Company. (Picture courtesy of the U.S. Army Signal Corps)
On the eve of a new year, we like to thank you for your interest as visitor of our websites and/or participant in our battlefield tours. Many thanks also to our sponsors and donors for their financial support. It goes without saying our volunteeers deserve high credit for the massive amount of work they have accomplished unselfishly in the past year. For 2018, we will hope to count on everyone's contribution, feedback and interest.
On behalf of all of our volunteers and the STIWOT staff, we wish everyone a beautiful and healthy 2018.