Rob (War Dog No. 471/332)
Biography
Rob was a Collie from the United Kingdom.
Do you have more information about this person? Inform us!
Awarded on: January 22nd, 1945
Action:
Citation:
"Took part in landings during North African Campaign with an Infantry unit and later served with a Special Air Unit in Italy as patrol and guard on small detachments lying-up in enemy territory. His presence with these parties saved many of them from discovery and subsequent capture or destruction. ."

Details:
Rob made over 20 parachute descents.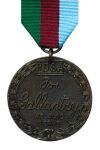 Sources