Prinses Irene, Koninklijke Nederlandsche Brigade
Do you have more information about this person? Inform us!
Awarded on: July 3rd, 1945
Action:
Received for deeds during the campaign 1944-1945.
Details:
At first the "Prinser Irene" Brigade was honored with the Militaire Willems-orde 3rd Class. This was however almost immediately corrected to the 4th Class.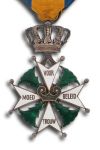 Sources
- "Brons", Nr 63, 18e Jaargang, uitgave van de Vereniging Dragers Militaire Dapperheidsonderscheidingen 2009
- Maalderink P.G.H., De Militaire Willemsorde sedert 1940, Sijthoff Pers, 1982, ISBN 90 70682 02 8