The website has become even bigger and better! WW2Awards.com has been fully merged with TracesOfWar.com. From now on, the sections Persons and Awards are available. Much more information in a larger jacket
Date of birth:

June 13th, 1911 (Pforzheim/Baden, Germany)

Date of death:

June 15th, 1986 (Munich/Bavaria, Germany)

Nationality:
Achieved a total of 66 aerial victories, all of one of which were night victories. Throughout his career he played a pivotal role in the development of the German night fighter arm, finally serving as Inspector of the Night Fighters from March 1944.
Do you have more information about this person? Inform us!
Photo: Deutsches Wehrkundearchiv

- OBERMAIER, E., Die Ritterkreuzträger der Luftwaffe, Hoffmann, 1989.
- THOMAS, FRANZ & WEGMANN, GÜNTER, Die Eichenlaubträger 1940-1945, Biblio-Verlag, 1998.
- Die Ordensträger der Deutschen Wehrmacht (CD), VMD-Verlag GmbH, Osnabrück, 2002
- Kwasny A., Kwasny G., Die Eichenlaubträger 1940-1945 (CD), Deutsches Wehrkundearchiv, Lage-Waddenhausen, 2001
- Fellgiebel W.P., Elite of the Third Reich, The recipients of the Knight's Cross of the Iron Cross 1939-1945: A Reference, Helion & Company Limited, Solihull, 2003, ISBN 1-874622-46-9
- Obermayer E., Die Ritterkreuztrager Der Luftwaffe 1939-1945, Band 1, Verlag Dieter Hoffman
- Patzwall K., Scherzer V., Das Deutsche Kreuz 1941-1945, Geschichte und Inhaber Band II, Verlag Klaus D. Patzwall, Norderstedt, 2001, ISBN 3-931533-45-X

Photo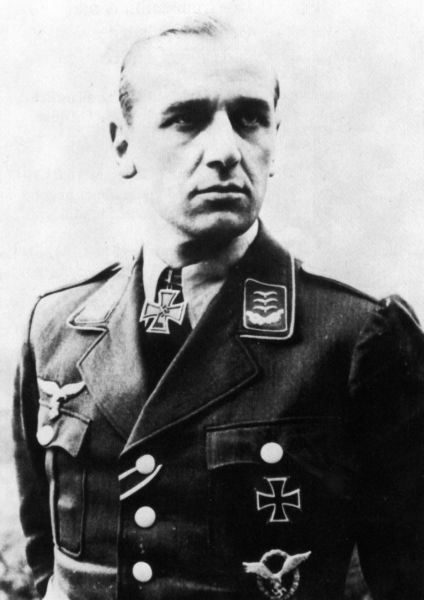 Helaas geen map gevonden.