The website has become even bigger and better! WW2Awards.com has been fully merged with TracesOfWar.com. From now on, the sections Persons and Awards are available. Much more information in a larger jacket
Date of birth:

October 10th, 1895 (Barzdorf/Silesia, Germany)

Date of death:

July 12th, 1945 (Bad Ischl/Upper Austria, Austria)

Nationality:
Wolfram Freiherr von Richthofen finally reached the rank of Generalfeldmarschall.
Do you have more information about this person? Inform us!
Photo 1: Wilco Vermeer
Photo: Wilco Vermeer
- THOMAS, FRANZ & WEGMANN, GÜNTER, Die Eichenlaubträger 1940-1945, Biblio-Verlag, 1998.
- Kwasny A., Kwasny G., Die Eichenlaubträger 1940-1945 (CD), Deutsches Wehrkundearchiv, Lage-Waddenhausen, 2001
- Fellgiebel W.P., Elite of the Third Reich, The recipients of the Knight's Cross of the Iron Cross 1939-1945: A Reference, Helion & Company Limited, Solihull, 2003, ISBN 1-874622-46-9
- Helden der Wehrmacht, Sammelband (Miscellany), FZ-Verlag GmbH, München, Deutschland, 2000
- Axis Biographical Research
- Wikipedia.org

Photo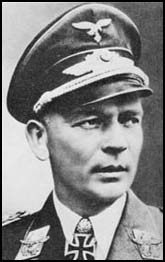 Background stories
Themes