The website has become even bigger and better! WW2Awards.com has been fully merged with TracesOfWar.com. From now on, the sections Persons and Awards are available. Much more information in a larger jacket
Gardenier, Louis
Date of birth:

May 26th, 1915 (Doorn, the Netherlands)

Date of death:

May 14th, 1940 (Rotterdam, the Netherlands)

Buried on:

Dutch War Cemetery Grebbeberg
Row: 13. Grave: 51.

Service number:

2613, 2 Lv.R.

Nationality:

Biography
Louis Gardenier served as enlisted Sergeant with the 2-II-Depot Luchtstrijdkrachten (2e Compagnie IIe Luchtvaartgroep). He was seriously wounded on May 13th, 1940 during fightings at Overschie (Zestienhovense kade) and died of his wounds on May 14th. His remains were buried with military honor at the cemetery Crooswijk in Rotterdam on May 23rd, 1940 and was transferred to Nieuw Eijk en Duinen in the Hague in June. When his grave was to be removed, his remains were reinterred at the Militaire Ereveld Grebbeberg in Rhenen on May 23rd, 1995.
Do you have more information about this person? Inform us!
Period:

Rank:

Dienstplichtig Sergeant (Sergeant)

Unit:

Sources
Photo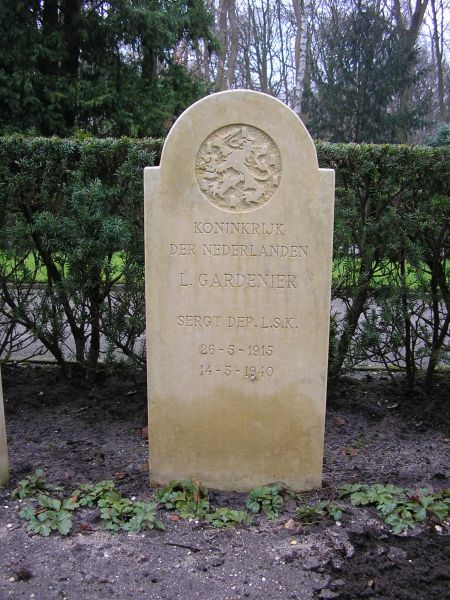 Helaas geen map gevonden.