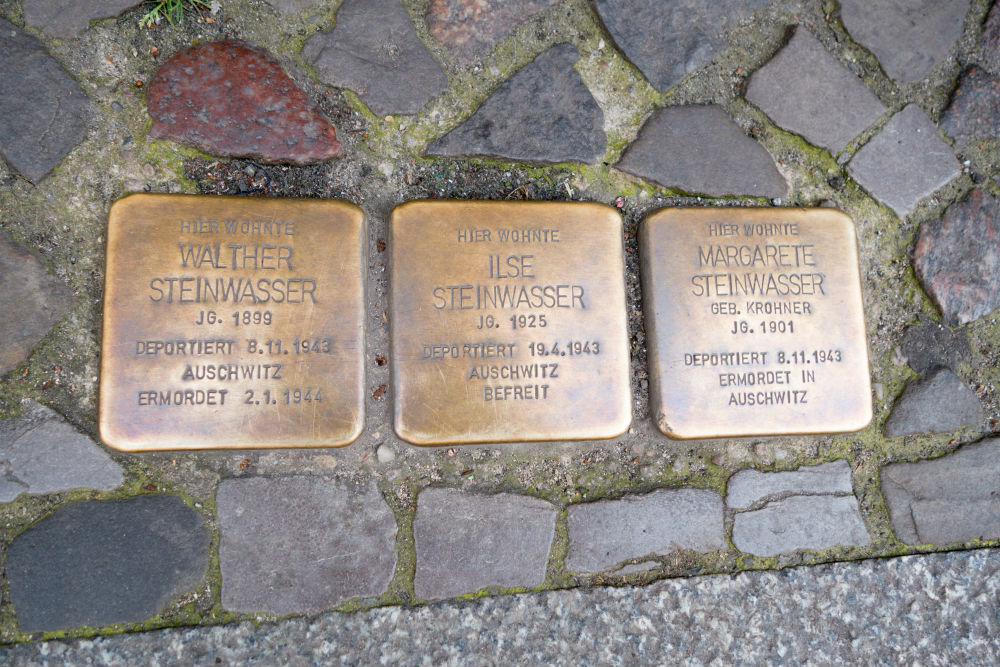 Stumbling stones / Stolpersteine commemorate:

* Walther Steinwasser, born 1899, deported 8 November 1943, Auschwitz, murdered 2 January 1944.
* Ilse Steinwasser, born 1925, deported 19 April 1943, Auschwitz, liberated.
* Margarete Steinwasse née Krohner, born 1901, deported 8 November 1943, murdered in Auschwitz.

Little information was found on the story of these three Steinwassers. From the dates, it would seem that they are parents and daughter.

Ilse Steinwasser was taken first but survived. A niece of Holocaust survivor Ilse Lea Steinwasser wrote that her aunt was the artist known as Lea Steinwasser. The niece reported that in Auschwitz, Ilse Lea was one of Josef Mengele's unwilling experimental subjects. This supports the theory that Ilse Steinwasser on the stolperstein is the same person as Lea Steinwasser the artist.

The freight train that took Walther and Margarete Steinwasser left Berlin on 8 November on the 46th transport out of Berlin. They arrived in Auschwitz two days later. This was a small transport with only 50 deportees. They were probably put into a single cattle car attached to another train. Upon arrival, they were divided into two lines: men, and women plus children. Thirty-one were sent immediately to the gas chambers; the others were sent to forced labor. From this transport, only two persons are known to have survived.

"Stolpersteine" is an art project for Europe by Gunter Demnig to commemorate victims of National Socialism (Nazism). Stolpersteine (stumbling stones) are small, 10x10cm brass plaques placed in the pavement in front of the last voluntary residence of (mostly Jewish) victims who were murdered by the Nazis. Each plaque is engraved with the victim's name, date of birth, and place (mostly a concentration camp) and date of death. By doing this, Gunter Demnig gives an individual memorial to each victim. One stone, one name, one person. He cites the Talmud: "A human being is forgotten only when his or her name is forgotten."
Do you have more information about this location? Inform us!
Source