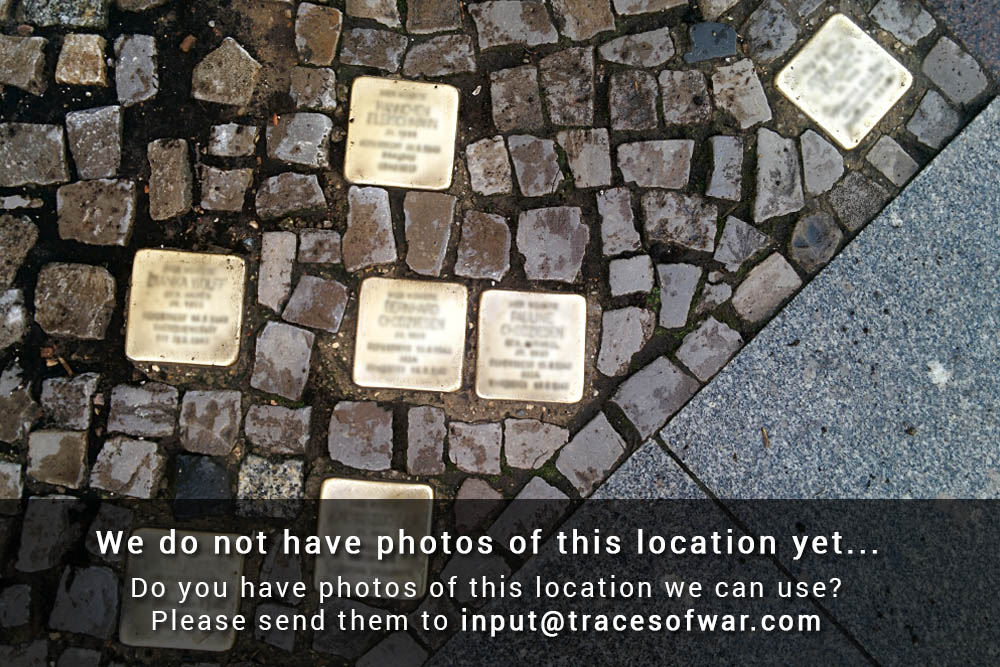 These memorial stones (so called Stolpersteine of stumbling blocks) commemorate:
Erich Heumann
Sylve Herrmann
, murdered or disappeared in the Holocaust.

Erich Heumann, a merchant, fled Germany and married Fridel Fuchs in Holland in 1941. They were sent to Westerbork, then deported to Auschwitz. Erich, who had an amputated leg, was killed immediately. Friedel survived medical experiments by the SS "doctor" Mengele and then survived a death march from Auschwitz to Ravensbrück, where she was liberated. She emigrated to Israel, where she lived to be 88 years old.

"Stolpersteine" is an art project for Europe by Gunter Demnig to commemorate victims of National Socialism (Nazism). Stolpersteine (stumbling stones) are small, 10x10cm brass plaques placed in the pavement in front of the last voluntary residence of (mostly Jewish) victims who were murdered by the Nazis. Each plaque is engraved with the victim's name, date of birth, and place (mostly a concentration camp) and date of death. By doing this, Gunter Demnig gives an individual memorial to each victim. One stone, one name, one person. He cites the Talmud: "A human being is forgotten only when his or her name is forgotten."
Do you have more information about this location? Inform us!
Source
Text: Fedor de Vries
Photos: TracesOfWar.com