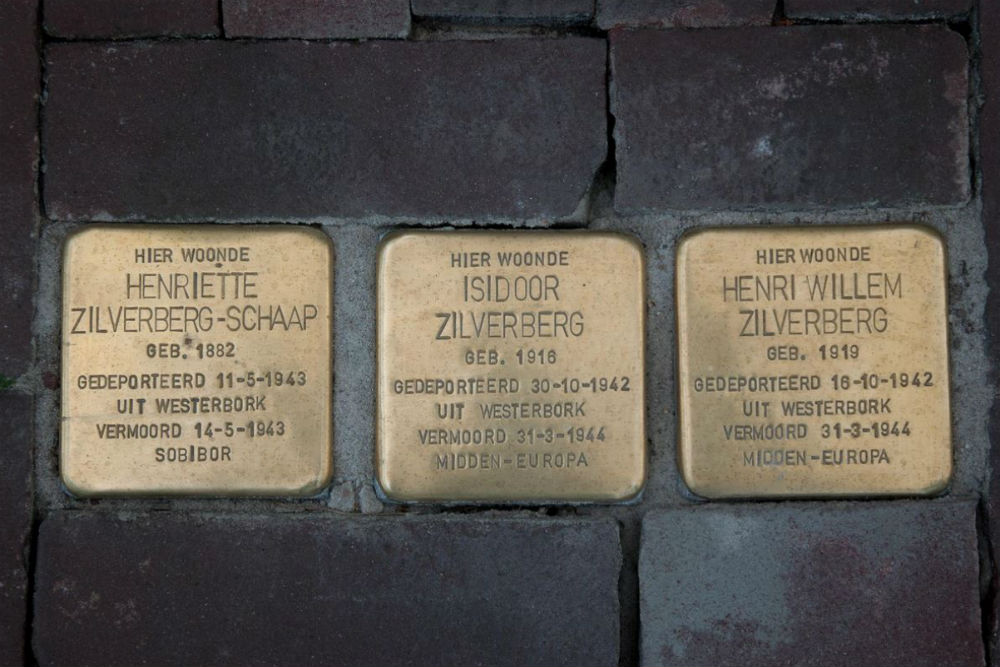 STOLPERSTEINE / STUMBLING STONES
for
* HenriŽtte Zilverberg-Schaap, born 1882, deported 11 May 1943 from Westerbork, murdered 14 May 1943, Sobibor.
* Isidoor Zilverberg, born 1916, deported 30 October 1942 from Westerbork, murdered 31 March 1944, Central Europe.
* Henri Willem Zilverberg, born 1919, deported 16 October 1942 from Westerbork, murdered 31 March 1944, Central Europe.

HenriŽtte Zilverberg-Schaap was the step-mother of Isidoor and Henri Willem. Their biological mother Elise (1881-1932) died in 1932 and their father, Abraham Zilverberg, died 2 years later, after he had married HenriŽtte. The sons had a sister Bertha Henriette Zilverberg, who survived and a brother Maurits Zilverberg for whom no information was found.

All three of HenriŽtteís siblings known to have survived until the beginning of WW2 were murdered in the Holocaust, including her brother Koopman Jacob Schaap from Almelo, NL, who was killed in Sobibor two weeks after she was.

"Stolpersteine" is an art project for Europe by Gunter Demnig to commemorate victims of National Socialism (Nazism). Stolpersteine (stumbling stones) are small, 10x10cm brass plaques placed in the pavement in front of the last voluntary residence of (mostly Jewish) victims who were murdered by the Nazis. Each plaque is engraved with the victimís name, date of birth and place (mostly a concentration camp) and date of death. By doing this, Gunter Demnig gives an individual memorial to each victim. One stone, one name, one person. He cites the Talmud: "A human being is forgotten only when his or her name is forgotten."

The first Netherlands stolpersteine (struikelstenen) were installed in Borne in November 2007.
Do you have more information about this location? Inform us!
Source