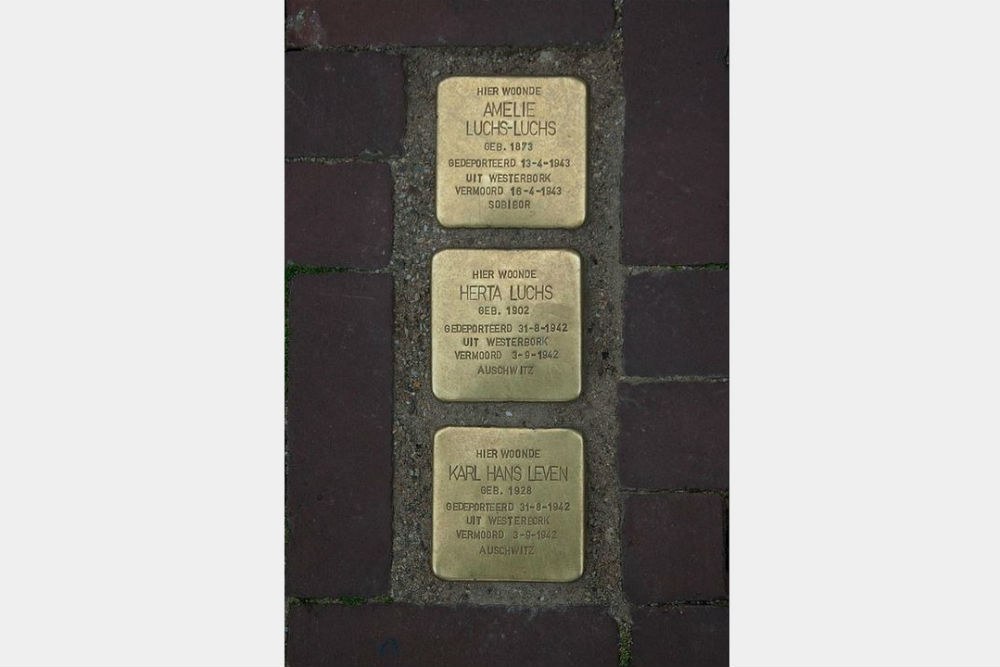 Stolpersteine / Stumbling Stones
for
* Amelie Luchs-Luchs, born 1873, deported 13 April 1943 from Westerbork, murdered 16 April 1943 Sobibor.
* Herta Luchs, born 1902, deported 31 August 1942 from Westerbork, murdered 3 September 1942 Auschwitz.
* Karl Hans Leven, born 1928, deported 31 August 1942 from Westerbork, murdered 3 September 1942 Auschwitz.

Amelie Luchs-Luchs, whose husband died in 1934, was the mother of Herta Luchs (also called Herta Leven-Luchs). Herta was divorced; Karl Hans Leven was her son.

A surviving cousin of Karl – Fred Firnbacher -- told more of their story. Herta and son Karl were in Holland, taking care of Herta's brother who was paralyzed. (He had worked for Organon-Oss.) Amelie had been travelling back and forth between a daughter in Holland and another daughter in Germany, trying to get a visa to escape Germany. She was in Holland when the Nazis invaded. In 1946, in response to Firnbacher family letters, the Dutch Red Cross provided news of their relatives' fate: Herta Luchs and her son Karl Hans Leven were on the road to Westerbork on 26 August, then deported from there on the 31st and murdered on 3 September. Amelie Luch was deported and killed 9 months later.

"Stolpersteine" is an art project for Europe by Gunter Demnig to commemorate victims of National Socialism (Nazism). Stolpersteine (stumbling stones) are small, 10x10cm brass plaques placed in the pavement in front of the last voluntary residence of (mostly Jewish) victims who were murdered by the Nazis. Each plaque is engraved with the victim's name, date of birth and place (mostly a concentration camp) and date of death. By doing this, Gunter Demnig gives an individual memorial to each victim. One stone, one name, one person. He cites the Talmud: "A human being is forgotten only when his or her name is forgotten."

Borne was the first town in the Netherlands in which Stolpersteine were placed -- on 29 November 2007.
Do you have more information about this location? Inform us!
Source