Introduction
During the summer of 1944 the allied forces which had landed in Normandy on 6 June 1944 spread out in France. For a moment the liberation of Western Europe from the Nazis within a couple of weeks seemed likely. In the beginning of September 1944 Brussels and Antwerp had already been liberated by British XXX Corps of Lieutenant-General Brian Horrocks. It did not take long before the allied forces were at the Belgian-Dutch border.
Now there were two different outlooks on how to continue the battle. The allied supreme-commander Dwight Eisenhower wanted to attack Germany on a broad front. The British Field Marshall Bernard Montgomery preferred to advance through Holland to the IJsselmeer and then move into Germany. This way the German troops in the West of Holland would become isolated and the Siegfried Line, a strong defence line, could be avoided. Thus the war would probably be over before Christmas of 1944. In the end Eisenhower granted Montgomery permission to work out his plans for this operation in detail. This operation was to be called: Operation Market Garden.
Operation Market Garden
Operation Market Garden consisted of two parts. 'Market' was the code name for the actions of the airborne troops. 'Garden' was the code name for the actions of the ground forces. The key to the success of this kind of operation were the airborne troops. According to plan three allied airborne divisions would jump over the area of Eindhoven, Nijmegen and Arnhem and then clear the way for British XXX Corps which was at the Belgian-Dutch border in the area of Neerpelt. During the first day XXX Corps would have to join the airborne troops at Eindhoven. These troops would join the airborne troops at Nijmegen on the second day and at Arnhem on the third day.
The Battle of Arnhem
The British 1st Airborne Division under the command of Major General Robert Urquhart would land in the area of Wolfheze and Oosterbeek. The most important order for the division was to take the road bridge in Arnhem and occupy the bridge for at least 48 hours until XXX Corps arrived from the south.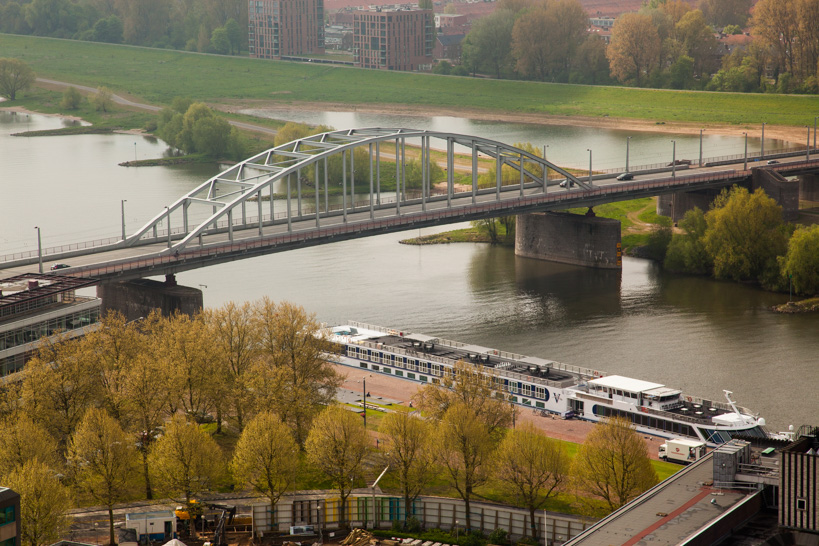 The John Frost bridge
On 17 September the first British paras landed on DZ (Drop Zone) X and the first gliders landed on LZ (Landing Zone) Z and LZ S. Later the British would get assistance from the Polish 1st Independent Parachute Brigade under the command of Major-General Stanislaw Sosabowski. By following this route you will pay a one-day-visit to the most important places of interest in the sector of the Battle of Arnhem.