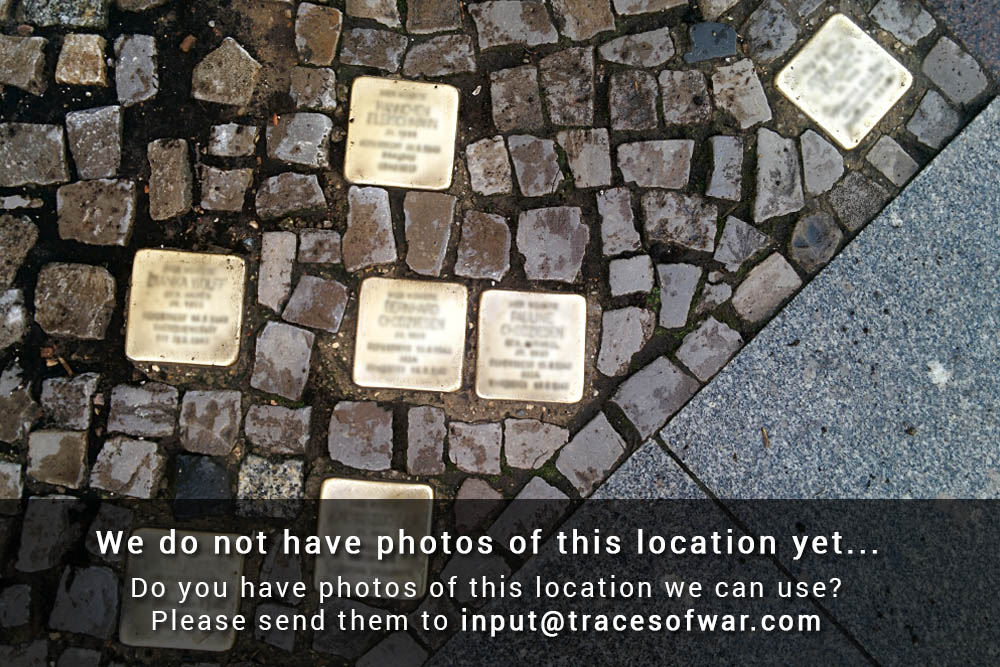 STOLPERSTEINE / STUMBLING STONES
for a 9-year-old child and her parents:
- Frits Mohr, born 1900, murdered 28 May 1943 Sobibor.
- Alice Mohr-May, born 1904, murdered 28 May 1943 Sobibor.
- Renate Mohr, born 1934, murdered 28 May 1943 Sobibor.

The German artist Gunter Demnig started placing the first Stolpersteine in 1997 in Berlin's Kreuzberg district.
Meanwhile there are Stolpersteine in many countries. They remind us of the Holocaust in World War II.
A Stolperstein is a concrete stone of 10 x 10cm, with a brass plate on top, into which are incised the name, date of birth and date and place of death.
The Stolperstein is placed in the pavement in front of the former house of the victim. By doing this, Gunter Demnig gives an individual memorial to each victim.
His motto is: 'A HUMAN BEING IS FORGOTTEN ONLY WHEN HIS OR HER NAME IS FORGOTTEN'.
Do you have more information about this location? Inform us!
Source
Text: TracesOfWar.com
Photos: TracesOfWar.com
url="http://www.goudsmetaheerhuis.nl/stolpersteinenamen.html"]Stichting Gouds Metaheerhuis[/url]