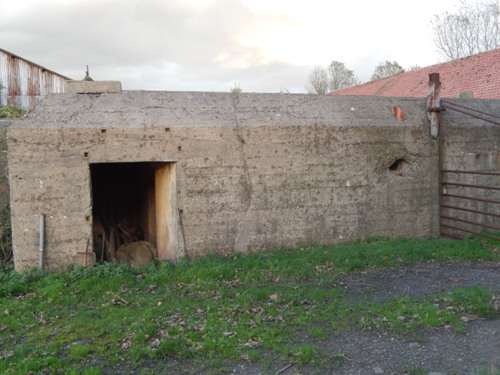 The full name of this type was Vf2a – Gruppenunterstand (splittersicher, Hoyerbalken).

This Stützpunkt was part of the German Atlantic Wall (Atlantikwall), building in World War II.

Here was battery 8/18 located with 4 French fieldhowitzers of 155mm, model sFH 414 (f). The battery was led from the observation bunker of Stützpunkt Bruno. The artillery casemates, type 669, were badly damaged in 1944 during the retreat of the Germans.

The heavy howitzermodel 155mm sFH 44 (f)

The original indication of this was the French cannon 155 C mle 1917 Schneider. This gun was put into service in 1917 and was a very good howitzer. It was also used by the U.S. Army during the First World War in France. The howitzer weighed 3300 kg and the maximum range was 11.3 km.
Do you have more information about this location? Inform us!
Source
Text: Bertrand Nollet
Photos: Bertrand Nollet