D-Day, 6 June, 1944, a most important date where the liberation of Europe is concerned. On this day the largest amphibious landing in history took place on the continent. During Operation Overlord allied soldiers set foot on French territory. The target was breaking through Hitler's Atlantikwall. By following this route you will pay a one-day-visit to the most important places of interest in the sector of the American airborne operation and Utah Beach on D-Day.
Introduction
On D-Day the first American wave of attack consisted of five divisions, three infantry divisions and two airborne divisions. With the three infantry divisions the Americans took two of the five landing beaches on their account, Utah and Omaha Beach. Both airborne divisions, the 82nd and the 101st Airborne Division, and the 4th Infantry Division which was to land on Utah Beach were part of the American VII Corps, who's target was the capturing of the port of Cherbourg.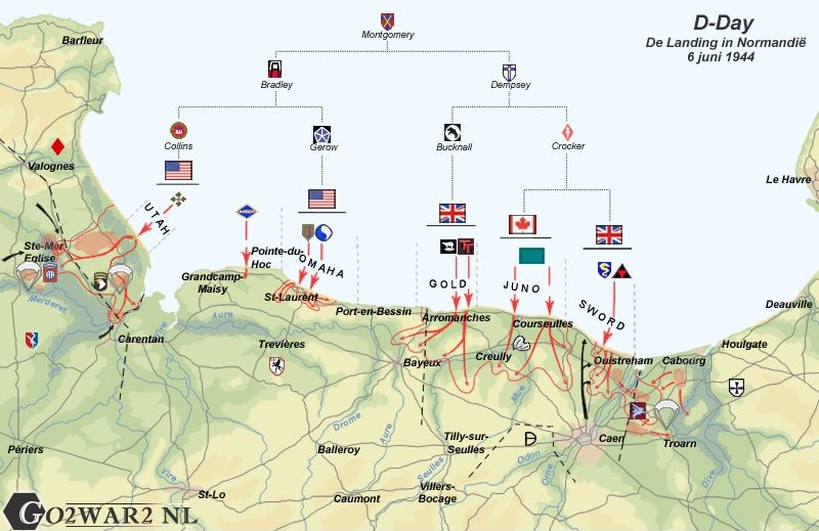 Overview of the landing locations on D-Day. Source: Peter Boellaard.
The American airborne operation.
The American airborne operation in Normandy had been divided into two missions, Mission Albany for the 101st Airborne Division and Mission Boston for the 82nd Airborne Division. The target of the two airborne divisions was to secure the west flank of the five landing beaches. This operation was carried out by approximately 13,100 soldiers of the American 101st and 82nd Airborne Division.
Utah Beach
For the supplying of the landed forces, it was necessary that the allies would get a deep sea harbor in their control within short notice. Cherbourg was such a harbor and that is the reason that Operation Overlord planned a landing on Utah Beach. Utah was a sandy beach with a concrete sea wall structure, behind which grassy sand dunes were situated. At low water tide, the beach was approximately 820 yards wide. Utah was separated from the other landing beaches by the double river mouth of the rivers Douvre and Vire.