The website has become even bigger and better! WW2Awards.com has been fully merged with TracesOfWar.com. From now on, the sections Persons and Awards are available. Much more information in a larger jacket
Date of birth:

September 1st, 1915 (Hohenberg/Lower Austria, Austria)

Date of death:

June 6th, 1996 (Vienna, Austria)

Nationality:
Promotions:
24th October 1937: Vormeister in het Österreichisches Bundesheer.
1st October 1938: Obergefreiter in de Wehrmacht.
1st December 1938: Unteroffizier.
1st April 1940: Wachtmeister.
4th May 1940: Offizier Anwärter.
1st June 1942: Oberleutnant.
1st June 1943: Hauptmann.
April 1945: Major.
After the Second World War, Brandner served in the Austrian Army and was awarded with the Croix du Combattant de Europe (1st May 1975) and the Silbernes Verdienstabzeichen der Republik Österreich (7th July 1994).
Do you have more information about this person? Inform us!
Photo 1: Willi Schumacher Collection
Photo: Willi Schumacher Collection
- SCHERZER, VEIT & FARWICK, WERNER, Die Ritterkreuzträger der Sturmartillerie 1939-1945, Verlag Veit Scherzer, 2011.
- THOMAS, FRANZ & WEGMANN, GÜNTER, Die Ritterkreuzträger der Deutschen Wehrmacht 1939-1945, Biblio-Verlag, Osnabrück, Germany, 1985.
- Die Ordensträger der Deutschen Wehrmacht (CD), VMD-Verlag GmbH, Osnabrück, 2002
- Kwasny A., Kwasny G., Die Eichenlaubträger 1940-1945 (CD), Deutsches Wehrkundearchiv, Lage-Waddenhausen, 2001
- Fellgiebel W.P., Elite of the Third Reich, The recipients of the Knight's Cross of the Iron Cross 1939-1945: A Reference, Helion & Company Limited, Solihull, 2003, ISBN 1-874622-46-9
- Patzwall K., Scherzer V., Das Deutsche Kreuz 1941-1945, Geschichte und Inhaber Band II, Verlag Klaus D. Patzwall, Norderstedt, 2001, ISBN 3-931533-45-X
- Berger, F., Ritterkreuzträger aus Österreich und den k.u.k. Kronländern, Selbstverlag Florian Berger, Wien, Österreich, 2006
- Kurowski, F., Panzer Aces II – Battle Stories of German Tank Commanders of WWII, Stackpole Books, Mechanicsburg, U.S.A., 2004
- Kurowski, F., Bridgehead Kurland – The six epic battles of Heeresgruppe Kurland, J.J. Fedorowicz Publishing Inc., Winnipeg, Canada, 2002
- Ritterkreuztraeger 1939 - 1945
- Axis History Biographical Research via Axis History Forum

Photo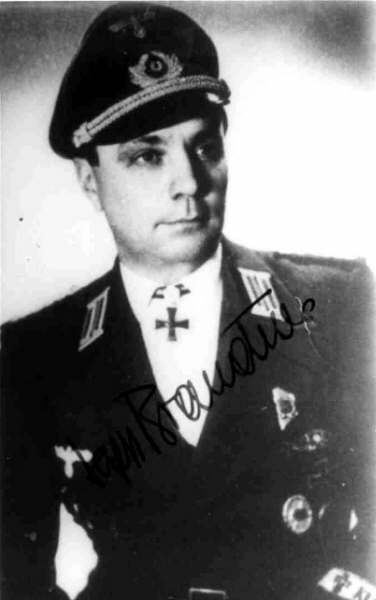 Themes