The website has become even bigger and better! WW2Awards.com has been fully merged with TracesOfWar.com. From now on, the sections Persons and Awards are available. Much more information in a larger jacket
Date of birth:

January 2nd, 1917 (Salem/Massachusetts, United States)

Date of death:

September 10th, 2018 (West Palm Beach/Florida, United States)

Buried on:

Arlington National Cemetery
Plot: 60. Grave: 11739.

Nationality:
BRIGADIER GENERAL ALBIN F. IRZYK served in the Army for 31 years. He fought five campaigns in Europe as a 27-28 year old Tank Battalion Commander in the Fourth Armored Division, which spearheaded Gen. Patton's Third Army across much of Europe. He was wounded twice and received the nation's second highest decoration, the Distinguished Service Cross, for extraordinary heroism. General Irzyk served two years in Vietnam where he had 600 combat hours in a helicopter with the 4th Infantry Division, for which he received 11 Air medals and the nation's third highest military decoration, The Distinguished Service Medal. He commanded the famed 14th Armored Cavalry Regiment along the Iron Curtain during the Berlin Crisis in 1961. For two years he headed the U.S. Army Armor School at Fort Knox, KY.
At the University of Massachusetts he received his Bachelor's Degree and a commission in the Horse Cavalry from ROTC. He holds a Master's Degree in International Relations from American University in Washington, DC, and is a graduate of the National War College.
He retired in 1971 at Fort Devens, MA, where he was the Commanding General.
He is the author of the autobiographical "He Rode Up Front for Patton".

Do you have more information about this person? Inform us!
Photo: Dragon Hobby Expo 2005

- Fox, Don M., Patton's Vanguard – The United States Army Fourth Armored Division, McFarland & Company, Jefferson, North Carolina, USA, 2003
- Koyen, K., The Fourth Armored Division – from the Beach to Bavaria, The Battery Press, Nashville, USA, 2000
- Dragon Hobby Expo 2005
- United States Contabulary
- Legion of Valor

Photo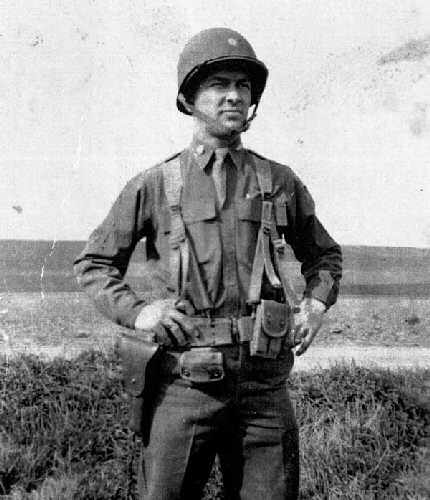 Helaas geen map gevonden.